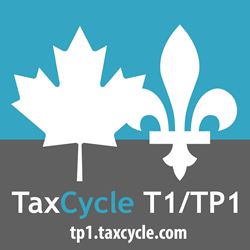 Last year, TaxCycle TP1 software was used in beta to NETFILE thousands of Québec personal tax returns flawlessly
Montréal, Canada (PRWEB) February 15, 2016
Coinciding with CRA's EFILE system going live for 2015 tax returns, Trilogy Software Inc. released their full filing version of the TaxCycle Suite for the tax year 2015, including the official announcement of their TaxCycle TP1 software for Québec personal tax returns.
CRA (Canada Revenue Agency) started accepting personal T1 returns electronically today from accountants and professional tax preparers using their EFILE (electronic filing) system. Since 2012, EFILE has been mandatory for the majority of returns filed by tax professionals.
The TaxCycle Suite release includes TaxCycle TP1 for Québec personal tax returns. Detailed information:
T1 (English / Français)
TP1 (English / Français)
"We've been working with Revenue Québec for a number of years to deliver an exceptional experience to tax accountants." says CEO & Founder, Cameron Peters. "Last year, our certified TP1 software was used in private beta testing for a number of offices that filed thousands of Québec personal returns flawlessly. We're excited to make it available to everyone this year!"
TaxCycle TP1 includes unlimited tax returns, unlimited EFILE and NETFILE, fully bilingual interface and forms, and a site license. The software is available in a free trial download from the company's website.
The TaxCycle Paperless Tax Office Suite includes a wide range of professional tax software modules: DoxCycle Document Management, TaxCycle T1 and TP1 Personal Tax, T2 Corporate Tax, T3 Trust Tax Return and Slips, T3010 Charity Returns, T4/T4A Employment Income, NR4 Non-Resident Income, T5 Statement of Investment Income, T5013 Partnership Return and Slips, and T5018 Contract Payments Return and slips.
"It's exciting to include Québec TP1 software in the TaxCycle Suite," reflects Marc Labrecque, National Sales Director. "We are now a truly national company; offering modern professional tax software in all provinces and territories in Canada, serving tax professionals from Tofino to Trois-Rivières to St. John's."
Existing customers can add TaxCycle TP1 to their existing TaxCycle software for only $150. This includes an unlimited site license for any number of users in a single office. Trilogy Software is providing TaxCycle TP1 free of charge to their "Everything" Suite users.
TaxCycle and DoxCycle are registered trademarks of Trilogy Software Inc.