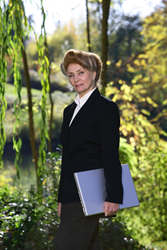 Grants Pass, OR (PRWEB) February 12, 2016
Nearly every health website and vision care website contains an article about foods choices that promote eye health. These articles generally list between five and 15 foods that should be consumed regularly for optimal vision health. Water and health advocate Sharon Kleyne endorses every one of these lists and believes that nutritious eye healthy foods are extremely important, especially as we age. Kleyne notes, however that one critical food item – possibly the most critical item of all – is omitted from every list. That item is water.
Water and eye health, and eye healthy foods will be discussed on the Sharon Kleyne Hour™ Power of Water® radio show of Feb. 15, 2016. The globally syndicated, education oriented show is heard weekly on VoiceAmerica (Health and Wellness, and Variety Channels) and Apple iTunes. For podcasts of past shows, go to http://www.voiceamerica.com/show/2207/the-sharon-kleyne-hour
Sharon Kleyne Hour® Power of Water® is sponsored by Bio-Logic Aqua® Research Water Life Science®, founded by Kleyne and specializing in fresh water, the atmosphere, body surface evaporation, dehydration and education. The Research Center's signature product for dry eye is Nature's Tears® EyeMist®.
The surface of the human eye, Kleyne points out, is 99 percent water. The basal tear film that covers the eye surface also contains tiny amounts of oil, salt, proteins and antibodies but water is by far the predominant component. Water is the primary refractor of light in the eye. If the water on the eye surface was removed, not only would it be excruciatingly painful, but the person would not be able to see.
The importance of tear film water is easily demonstrated, says Kleyne. If the eyelid is deliberately held open and not allowed to blink, it takes about 10 seconds for the tear film to start to dry out and also to start to hurt. Thirty seconds without blinking is about as long as a normal person can tolerate. .
The importance of water in vision is underscored by the fact that the most common complaint heard by eye doctors in the United States are the symptoms for a condition called "dry eye," in which a portion of the tear film's water component is lost. The loss can be due to tear gland malfunction, illness, body dehydration or, most commonly, a low humidity or polluted external environment.
A loss of only 2 percent of tear film water can trigger dry eye symptoms such as itching and burning eyes, blurred vision, headaches, etc. In an era of global warming and drying, dry eye is becoming a worldwide public health crisis.
Tear film water content can be maintained or supplemented in two ways, by drinking more water and by applying an external water mist to the eyes. Kleyne recommends drinking at least eight glasses of water a day (8 ounces each), in addition to all other fluids. She recommends two full glasses upon waking up in the morning and two more during the day. Avoid alcohol, caffeine, carbonated drinks and heavy sugar, which are all dehydrating.
Supplemental tear film water can be applied externally with the product Nature's Tears® EyeMist®, from Kleyne's Bio Logic Aqua® Research Water Life Science®. A two second mist application in the vicinity of the eyes will allow the tear film to absorb all the water it needs directly from the air – about three to five nanoliters.
The most commonly recommended "eye foods," according to Kleyne, are: Kale and spinach for lutein and zeaxanthin, two of the most important eye nutrients. Oranges and eggs are also sources of these nutrients. Orange and grapefruit juice are excellent sources of vitamin C, as are peppers and cabbages such as cauliflower, broccoli and Brussels sprouts. Nuts and seeds provide vitamin E which is helps control free radicals and prevents macular degeneration. Fish is an excellent of source of omega-3 fatty acids while oysters and liver provide zinc, another important eye nutrient.
And finally, it's true what they say about carrots. Carrots are an outstanding source of beta carotene, which is critical to retinal health. Other beta carotene foods include pumpkin, sweet potatoes, yams, spinach, kale, collard greens, cantaloupe, mango and papaya.
Source:
McMullen, L, "13 foods that do your eyes good," US News Health, March 12, 2013
http://health.usnews.com/health-news/health-wellness/slideshows/13-foods-that-do-your-eyes-good/2