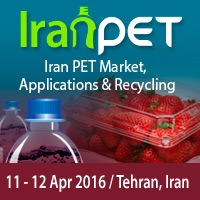 Iran's huge consumer market opens to innovative PET packaging applications and technologies.
Tehran, Iran (PRWEB) February 16, 2016
Iran's huge consumer market opens to innovative PET packaging applications and technologies. Leading global corporations sharing relevant technology include – Gneuss, Sacmi and EPC Engineering Consulting on 'Pushing the Limits of Extrusion – Customized Melt Properties with MRS Technology', 'Latest Development on Injection Preform Systems' and 'Polymer revamps and PETG from CHDM' respectively.
Other sessions on latest trends, technologies and innovations will be elaborated by:

Bericap – How Closure Innovation allows Lightweight Packaging?
Selenis – Versatility of Glycol-modified PET & New Developments in PET Specialty Resins for Film & Sheet Application
Sidel – Innovations in Aseptic PET Filling & Bottling Technology
NGR - Next Generation Recyclingmaschinen – PET- Upcycling, using the LSP-Process (Liquid State Polycondensation)
Frigel – Ecodry System - New Integrated Solutions for the Cooling of PET, Packaging and Beverage Industries
Piovan – Integrated PET processing: technological advancements and solutions innovation
Major PET resin producer Shahid Tondgooyan Petrochem's Saeed Emami, R&D Manager gives analysis of 'Iran's PTA, PET & Polyester Industry Outlook'. Whilst Mohammad Sadegh Rahimian, CEO of Red Tree Trading focuses on 'Iran's PET Position in the Regional and Global Trade Flows'.
Hamid Reza Sadeghi, Quality Assurance Manager at Khoshform Toos reveals the 'Challenges & Opportunities in Iran's Preform Market' while Farzad Khozemieh, Assurance Manager at Polyacryl Iran Corp. looks at the 'Opportunities in Iran's Polyester Sector'.
Other key highlights are discussions on:

Strategies for Success in the Bottled Water Industry in Post Sanctions Iran – Yousef Raeisi, Chairman of the Board, Pak Ab Sabalan Mineral Water Co. (Vata)
Iran's Dairy Sector & Recycling Developments in PET – Engr. Mousavi, Consultant, Pegah Dairy Packaging Industries
Operating in a Credit Driven Market: How to Reduce Trade & Business Risks in Iran – Arash Shahraini, Board Member, Export Guarantee Fund of Iran (EGFI)
Doing Business in Iran: What are the Pitfalls to Avoid? – Anahita Asgari Fard, Managing Partner, Asgari & Associates
Organized by Centre for Management Technology (CMT), the IRANPET Summit is co-sponsored by Piovan, Sacmi, NGR, Gnuess, Frigel, Sidel and EPC Group (also an exhibitor).
View event website for more details or call Ms. Hafizah at +65 6346 9218.