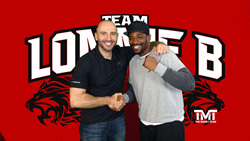 Lionell is the true American underdog story. He's a hero even without his boxing accomplishments.
Lockport, NY (PRWEB) February 12, 2016
Born and raised in Buffalo, N.Y., Lionell Thompson has made history as the first Western New York boxer to sign with the famous Mayweather Promotions out of Las Vegas, Nev.
His journey wasn't easy, but just as he did with his fighting style, he made the adjustments necessary for victory. Having been raised with absentee parents, Thompson, who also goes by his ring name "Lonnie B," found refuge in a local church, where he decided to spend his childhood. He attributes his positive lifestyle, strength and faith from that very choice. He proudly boasts that he's never had any drug or criminal history and said his faith molded his lifestyle.
Thompson didn't want to be another inner city statistic and ensured he graduated from Burgard High School while also continuing his education by enrolling and finishing four years at Buffalo State College.
"Lionell is the true American underdog story", his advisor Amer Abdallah said. "He had all of the chances and exposure to become another unfortunate statistic, but he made a choice to be somebody. He's a hero even without his boxing accomplishments."
Taking the biggest risk of his life, Lionell left his beloved hometown gym, the Northwest Community Center where he trained under Don Patterson to venture to Las Vegas and get noticed by a big time promoter. Another one of his trainers, Ross Thompson, encouraged the move along with manager and friend Timothy Ziccardi, who helped finance his trip.
Thompson gathered the savings he'd put together, stayed in a budget motel for more than a month and sparred at every local gym. One gym in particular took notice to his skillset and determination. It so happened to be one owned by boxing superstar Floyd Mayweather Jr.
Mayweather offered Thompson a contract to fight under Mayweather Promotions and The Money Team, where Thompson gladly accepted.
"Floyd did everything he said he was going to do for me and has given me the opportunity of a lifetime," Thompson said. "My dream is to deliver a world title to my hometown of Buffalo, N.Y."
Thompson will be one step closer to that dream when he fights on Premier Boxing Champions in Las Vegas on Feb. 16 broadcasted live on Fox Sports. Thompson will be the Co-Main Event.
For more information and to follow Lace Up Promotions, follow them on Facebook at Lace Up Promotions or on their website at http://www.LaceUpPromotions.com.