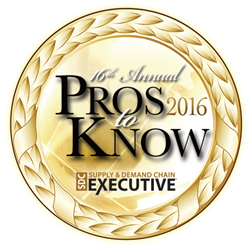 With more data to analyze, volatile conditions around the globe, and the need for new skill sets to handle advanced sourcing requirements, the Procurement-as-a-Service trend will become vital to procurement's success for the organization
Camp Hill, PA (PRWEB) February 19, 2016
Puridiom, leading provider of procure-to-pay solutions and services, is proud to announce that one of its own is once again a recipient of the Provider Pro-to-Know award from Supply & Demand Chain Executive. Al Jacobs, COO & VP of Business Relations received the award for his dedication to Puridiom clients and ability to anticipate and proactively alleviate supply chain and procurement challenges.
The Pros to Know Awards recognize supply chain executives, manufacturing and non-manufacturing enterprises, that are leading initiatives to help prepare their companies' supply chains for the significant challenges of today's business climate. This year's list includes more than 200 individuals from software firms and service providers, consultancies or academia, who helped their supply chain clients or the supply chain community at large prepare to meet these challenges—and more than 40 Practitioner Pros, who do the same within their own companies.
"Supply & Demand Chain Executive congratulates the 2016 Supply & Demand Chain Executive Pros to Know recipients. The Pros to Know is a listing of exceptional corporate executives at manufacturing and non-manufacturing enterprises who are leading initiatives to help prepare their companies' supply chains for the significant challenges in the year ahead," says Ronnie Garrett, editor of Supply & Demand Chain Executive. "We commend recipients for their achievements. Their accomplishments offer a roadmap for other leaders looking to leverage the supply chain for competitive advantage. Their efforts in developing the tools, processes and a knowledge base for supply chain transformation, as well as in promoting new approaches to supply chain enablement, earned these individuals a rightful place in this year's Pros to Know listing."
Mr. Jacobs is an integral part of the Puridiom procurement vision and is currently spearheading a new comprehensive "Procurement as a Service Cost Improvement Program" to help achieve business goals faster, fill necessary gaps, and deliver real sustainable savings from one year to the next for our customers. He views the following as key challenges facing procurement leaders in the year ahead: must increase the overall effectiveness and influence of procurement, continue to find savings by reducing and avoiding purchase costs, improve business agility, and expand the scope of procurement spend under management.
Mr. Jacobs states "Agility will define procurement leadership in the future. With more data to analyze, volatile conditions around the globe, and the need for new skill sets to handle advanced sourcing requirements, the Procurement-as-a-Service trend will become vital to procurement's success for the organization now and in the future". Mr. Jacobs adds, "the role of procurement must be elevated to be a trusted advisor and we at Puridiom perceive this as a top priority for many CPOs in 2016."
Expansion of each of these topics will be included in a blog series available on the Puridiom Blog.
Puridiom is proud to now have five Pro-to-Know recipients, many with multiple awards, on its team. To view a listing and information about all of our Puridiom Pro-to-Knows, or for more information about the Puridiom Procure-to-Pay solution, please visit our website.
The full listing of the 2016 Pros to Know will be available on the Supply & Demand Chain Executive Website at SDCExec.com on Feb. 25. An expanded listing will appear in the March 2016 issue of Supply & Demand Chain Executive magazine and online thereafter.
About Puridiom
Puridiom, a recognized procurement and procurement services leader, offers innovative procurement solutions, industry-specific strategies, and best practice expertise to achieve best-in-class results. For over 30 years, Puridiom has successfully transformed procurement and accounts payable operations and delivered real savings, control, compliance, and accountability to spend activity. Puridiom serves global organizations within diverse industries, including energy, insurance, financial, entertainment, government, healthcare, and non-profit. Solutions and services include stand-alone modules, a comprehensive procure-to-pay suite, cloud / SaaS and on-premise deployment platforms, and business process outsourcing options. Discover real savings and learn more at http://www.puridiom.com.
About Supply & Demand Chain Executive
Supply & Demand Chain Executive is the executive's user manual for successful supply and demand chain transformation, utilizing hard-hitting analysis, viewpoints and unbiased case studies to steer executives and supply management professionals through the complicated, yet critical, world of supply and demand chain enablement to gain competitive advantage. Supply & Demand Chain Executive is a publication of AC Business Media. Visit our website for more information.