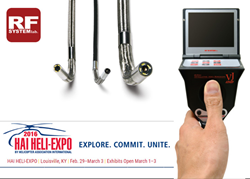 Traverse City, MI (PRWEB) February 19, 2016
RF System Lab borescope experts Casey O'Tool and Jess Kuznicki are heading to the Kentucky Exposition Center in Louisville, Kentucky for the 2016 HAI Heli-Expo from February 29th to March 3rd. The Heli Expo is the world's largest trade show dedicated to the international helicopter community featuring 1.2 million square feet of space with 700+ exhibitors, 57+ helicopters on display and over 100 education opportunities including education courses, safety sessions, workshops, and forums; some designed specifically for maintenance professionals.
This year, Casey and Jess are looking forward to returning to the Heli Expo for the fifth time and will be presenting the VJ-Advance articulating video borescope in booth 9346. The VJ-Advance has become a favorite with top names in aviation, especially the 3.9mm diameter borescope, which is the perfect fit for Pratt & Whitney engines.
Aviation professionals looking to add a high-quality inspection camera to their arsenal can stop by the RF System Lab booth for a hands-on demonstration of the VJ-Advance video borescope and experience the ease of joystick-controlled articulation. Casey and Jess will be available to answer any questions about remote visual inspection for helicopters and provide details about how the VJ-Advance is a must-have addition to any quality control and maintenance program.
Interested attendees can begin the 2016 HAI Heli-Expo experience by visiting their website. Take a look at the HAI Heli- Expo schedule to check out 100+ events that offer attendees the chance to meet with peers, discuss current issues, and stay up-to-date in a changing industry.
RF System Lab is looking forward to presenting the VJ-Advance at this year's conference in booth 9346. If aviation maintenance professionals are unable to attend this event but still want to test out the VJ-Advance, they can take advantage of the no-cost, no-obligation demo offer by clicking here.