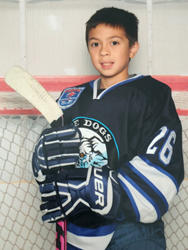 We are judged by what we finish, Not by what we start...
San Francisco, California (PRWEB) February 18, 2016
The Fallen Angel Aviator Foundation (FAAF) was graciously chosen as the Leigh Steinberg military non-profit national beneficiary for the Super Bowl 50 event at the Metreon on Saturday February 6th in San Francisco. Thanks to the ongoing support of George Boedecker and the Boedecker Foundation the foundation was able to participate in the live auction event with the proceeds going to help support the Decker Dogs and the FAAF Gold Star Youth Character Development Program.
The Fallen Angel Aviator Foundation is an IRS registered non-profit 501(c) 3 all-volunteer organization of former and current military Aviators, Veterans from all services and friends of the Military. The Fallen Angel Aviator Foundation is dedicated to serving our country's Fallen Aviators, Air Crew Members, Service Members and their Families. This outreach to military families has made a long lasting positive impact on the lives of many. A recipient of the foundation's support had this to say about the impact that was made on her son:
"Thank you for sponsoring my son, Owen, and making sure that his hockey dreams become a reality. Seven years ago at the age of three he put on his first pair of ice skates and fell in love with a sport that has become the center of our lives. What you may not know is Owen's father, Harry A. Winkler III (or Buck as many of his fellow soldiers called him), was killed in Iraq on November 12, 2006." Charity C., Gold Star Mom
Fallen Angel Aviator Foundation provides funds and scholarships to families for character development programs such as sport and recreational club fees (football, baseball, basketball, soccer, hockey, gymnastics, band, YMCA Camps etc.), Boy & Girl Scout fees and music lessons, to name a few. The organization has found these youth programs can be cost prohibitive for some Gold Star Families to participate. It is also believed that these organizations provide a profound impact to help children of our Fallen Heroes cope with the loss of their parent when they are at their most crucial developmental phase of life. Again this year Fallen Angel will support the Gold Star Teen Adventure organization sponsoring teens of our Fallen Heroes, Snow Ball Express organization and individual Gold Star Children.
The negative stigma associated with addiction counseling and Post Traumatic Stress Disorder (PTSD) can be a deterrent for some military members to seek help. Fallen Angel provides funding directly to facilities if needed as well as Service Dog support to assist military service members and veterans get back their lives. This year Fallen Angel will support the Jessie and Eric Decker Foundation in their endeavor to provide service dogs for our military service members.
Fallen Angel Aviator Foundation also assist, manages and builds memorials to our Fallen Comrades. The foundation's goal is to provide military families a fitting, honorable and lasting remembrance memorial. In the second project, the foundation's memorial fund will assist the town of New Castle Colorado and his family in honoring the service of USAF Captain William Dubois with a memorial in his home town.