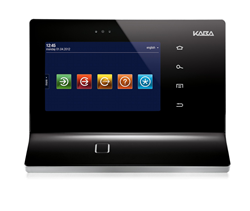 Miramar, FL (PRWEB) February 15, 2016
Kaba Workforce Solutions is proud to announce that they will be exhibiting at SAPinsider's HR 2016 conference, Wynn Las Vegas, February 23-26, 2016. Kaba will offer proven advice to attendees about integrating the B-COMM time clock into the SAP ERP Solution.
Every year, in collaboration with SAP, SAPinsider Events presents the definitive conference for organizations evaluating and running SAP® and SuccessFactors solutions including core HR, talent management, and payroll. This event not only offers a detailed look at the entire range of capabilities within HR solutions, it facilitates learning, networking, and one-on-one conversations with expert speakers.
If you're attending HR 2016, stop by booth #510, in the exhibition hall, where Kaba will be demonstrating the seamless integration of B-COMM time clock terminals with a variety of ERP systems.
About Kaba Workforce Solutions
With SAP Certified Integration, just add Kaba Time Clocks to your SAP ERP system to achieve instant productivity gains. Time and Attendance data can be integrated with SAP HR or CATS. Payroll calculations can be achieved through configuration of SAP Time Evaluation. Shop Floor Labor data can be integrated with PM/CS, PS, or PP, and automatically reconciled with payroll results. Kaba's b-comm for SAP is used by more than 1,600 SAP customers worldwide, who have achieved increased productivity through automated data collection. Data collection options include time clocks (badge or biometric), mobile, pc / web, and telephone / IVR. Click here for more information
About SAPinsider
SAPinsider, published by Wellesley Information Services, is the premier source of information on products, services, and strategic initiatives coming from SAP and its partners. More than 250,000 customers in 70 countries rely annually on education and training materials from Wellesley Information Services to optimise their investments in SAP solutions. Wellesley Information Services is the publisher of SAPinsider, insiderPROFILES, and the SAPexperts knowledgebases, and is the producer of SAPinsider conferences and seminars. For more information, visit http://www.SAPinsiderOnline.com.
SAP is a registered trademark of SAP SE in Germany and several other countries. Wellesley Information Services is not affiliated with SAP SE or any of the SAP SE group of companies.
SAP and other SAP products and services mentioned herein as well as their respective logos are trademarks or registered trademarks of SAP SE (or an SAP affiliate company) in Germany and other countries.
All other product and service names mentioned are the trademarks of their respective companies.