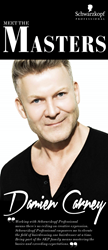 Schwarzkopf Professional has provided us with the opportunity to truly connect to hairdressers, allowing us the amazing opportunity to experience hands-on cutting, styling and color techniques with top global artists in our own working environments.
(PRWEB) February 16, 2016
In May of 2016, Schwarzkopf Professional will partner with the esteemed Sahag Workshop, in the form of a new academy at their Manhattan location. Labeled as an 'Elite Destination,' the new NYC venue will offer the latest in innovative, hands-on Schwarzkopf Professional education, as well as advanced classes with Schwarzkopf Professional top artists.
Elite Destination:
The unique, yet timeless 4,000 square foot salon was originally and carefully designed by John Sahag himself. Wrapping around the second floor corner of 49th and Madison Avenue, the space features dramatic floor-to-ceiling softly draped windows, allowing for tons of natural light; making it the ideal atmosphere for revealing true color tones. The salon also features three private changing rooms, a coat check, and two of the largest salon bathrooms in NYC.
Linda Gilbride, Schwarzkopf Professional Director of Education/PPS provides insight into this exciting partnership, and developments for the brand:
John Sahag was an innovator, an artist, and most importantly, passionate about the hairdresser. We are honored to be part of the iconic legacy that John Sahag began in the beauty industry. Our partnership with the innovative Sahag Workshop team in NYC, allows Schwarzkopf Professional the unique opportunity to offer an elite education program for passionate hairdressers, in a truly inspiring environment located in the heart of Manhattan. John Sahag and Schwarzkopf Professional believe in inspiring hairdressers, supporting their professional career journey, and providing them with the educational platform to elevate their creative skills. It truly is, the perfect partnership – Together. A Passion For Hair!"
Meet The Master's - Schwarzkopf Professional Elite Education
The Elite Destination will serve as a space for advanced Schwarzkopf Professional artists to display the latest trends and techniques, combined with advanced technology in their Meet The Master's 2016 educational program.
On Meet The Master's - Schwarzkopf Professional Elite Education, Gilbride states:
As a leader in the beauty industry, Schwarzkopf Professional's main goal is to provide hairdressers with a learning experience that will elevate their professional journey, while feeding their creative passion. We are proud to announce our Elite Partnership with John Sahag NYC.
The seminar programs in 2016 will offer an intimate learning experience with our most inspirational Schwarzkopf Professional creative leaders; Damien Carney, Rossa Jurenas and Kim Vō. at the prestigious Sahag Workshop located on Madison Avenue in NYC.
Meet The Master's – Schwarzkopf Professional Elite Education will allow the hairdresser a unique experience; that will include working side-by-side with industry icons, who will share their career building expertise of creating beautiful hair. All seminars will have a unique approach based on the Master's area of expertise. Each seminar will reveal the Master's iconic techniques, and will offer their professional insights for career growth. This personalized approach, fosters memorable inspirational moments for each participant that will elevate their passion.
"I am so excited about the Schwarzkopf Professional's Meet The Masters partnership with Sahag, right here in my NYC salon home! To me, this shows Schwarzkopf Professional's creative and business commitment. They have provided us with the opportunity to truly connect to hairdressers, allowing us the amazing opportunity to experience hands-on cutting, styling and color techniques with top global artists in our own working environments... Not just on a performance stage, or 'by the book' school. It also means that hairdressers from all around the world have more of a reason to come to NYC; to learn, grow, get a little crazy, and let their hair down," says Rick Wellman, Schwarzkopf Professional Color Ambassador and Hue Director at Sahag Workshop.
Meet The Master's – 2016 Elite Education Dates:
February 14th & 15th, 2016:
Ambassador: Damien Carney
Topic: Made to Create: OSiS+ Advanced Style Academy
May 15th & 16th, 2016:
Ambassador: Rossa Jurenas
Topic: Color Decoded Special / Color Worx – Color Explosion
September 18th & 19th, 2016:
Ambassador: Kim Vō.
Topic: Designing Celebrity Blonde on Blondes – Freehand Techniques For
Success
November 13th & 14th, 2016:
Ambassador: Rick Wellman
Topic: Schwarzkopf Professional & Biolights
For Meet The Master's bookings, please call: 844-827-5338, or email: ASKEducationUSA(at)Henkel(dot)com
###
About Schwarzkopf Professional
Schwarzkopf Professional, part of the Beauty Care business unit of Henkel Consumer Goods, has been a leader in the salon industry for the past 116 years. Established as a global leading supplier in the hairdressing business; Schwarzkopf Professional offers brands and technologies that make people's lives easier, better and more beautiful. Based on a professional partnership with the hairdresser, Schwarzkopf Professional focuses on providing innovative concepts and services, which match the needs of their International salon clientele.
Schwarzkopf Professional is present in over 80 countries. Well known International brands include; BLONDME (blonde color, care and styling), leading brand IGORA ROYAL (color), Essensity (color), BC Bonacure (care), and OSiS+ (styling). Schwarzkopf Professional's mission statement, "Together. A Passion For Hair" is their point of difference, and is the unique pulse which unites their business with their salons and consumers. Their daily goal is to bring that passion for hair to life.
Henkel Consumer Goods operates worldwide, with leading brands and technologies in three business areas; Laundry & Home Care, Beauty Care and Adhesive Technologies. Founded in 1876, the company has some 47,000 employees and holds leading global market positions in both the consumer and industrial businesses, with well-known brands such as; Persil, Schwarzkopf, and Loctite.
For additional information, please visit our website at Schwarzkopf-ProfessionalUSA.com. For up to the minute news on all things Schwarzkopf Professional, follow @SchwarzkopfUSA on Instagram and Twitter, and also connect with us on Facebook at: Facebook.com/SchwarzkopfProfessionalUSA.