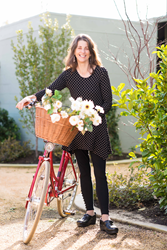 Lodi, California (PRWEB) February 16, 2016
Winners have been named! Visit Lodi! Conference & Visitors Bureau has selected Robin Knowlton as the 2016 Tourism Advocate of the Year and Fields Family Wines as the 2016 Winery of the Year.
Robin Knowlton
Tourism Advocate of the Year Robin Knowlton is a driving force for bicycle tourism in Lodi. She has dedicated her time, talents and passion to developing and promoting the region as a bicycling destination, pulling together local leaders and resources to turn this vision into reality. Knowlton is part of the Lodi Chamber of Commerce's Vision 2020 group as well as the Lodi Bike Coalition. In 2015 she coordinated Lodi Bicycle Summit and spearheaded the creation of interactive bike maps and brochures in collaboration with Visit Lodi! to target a whole new scope of visitors.
"Robin has played an integral role in the advancement of bicycle tourism in Lodi," stated Visit Lodi! President & CEO Nancy Beckman. "She has been involved in every step of the process and the amount of time and work she has put into it is incredible."
Fields Family Wines
Winery of the Year Fields Family Wines is owned and operated by Russ Fields in partnership with winemaker/partner Ryan Sherman. Established in 2005, Fields offers wine made in small lots, handcrafted and of the highest quality. Their goal is "to craft wines that showcase the vineyards from where they come and employ a minimalistic approach to winemaking" (http://www.fieldsfamilywines.com).
Fields Family Wines has received national and international recognition, earning prestigious awards and top spots on coveted industry lists. In addition to producing award-winning wines, Fields continuously pursues new and creative opportunities to promote not only their wine, but also other local wineries and Lodi as a whole.
"We are very involved and engaged with many different types of writers on many different platforms," said Ryan Sherman, winemaker/partner, Fields Family Wines. "We've hosted writers at the winery and included other Lodi wineries as well. We also interact with several other wineries and winemakers from different regions, and these relationships and friendships have brought others to Lodi that might not have come otherwise."
Knowlton and Fields Family Wines will be honored for their contributions to the Lodi community at the 10th Annual Tourism Luncheon hosted by Visit Lodi! on May 3, 11:30 a.m. to 1:30 p.m. at Wine and Roses Hotel, Restaurant and Spa. Tickets are on sale for $35 per person or $280 for a table of 8. Reservations can be made by calling (209) 365-1195 or by visiting the Downtown Visitor Center at 25 N. School Street.
For more information, please contact the Visit Lodi! Conference and Visitors Bureau at (209) 365-1195 or marketing(at)visitlodi(dot)com.