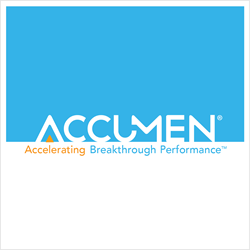 Mary's background and proven record of success, combined with Accumen's mission of Profoundly Impacting Healthcare(TM), will provide great value to our clients.
San Diego, Calif. (PRWEB) February 16, 2016
Accumen, a healthcare transformation company, announced today that Mary Kopp, MS, RN, NEA-BC has been appointed as Accumen's Vice President of Clinical Operations. Hired for leadership and her extensive knowledge of what hospitals must do to attend to patient care, Kopp will be responsible for furthering Accumens' laboratory offering in the strategic area of Test Utilization, in addition to working closely with our health system clients to further enhance the level of service and results they deliver.
With more than 30 years of clinical and hospital leadership experience, Kopp has held several senior hospital operational management positions. In these roles, she has led successful initiatives to reduce variation in care and maintain quality, safety and patient experience, all while creating meaningful cost savings for hospitals (and patients). Additionally, she has managed the development of community partners to drive patient outcomes and successfully navigated her teams through the many shifts in the healthcare sector over the past few decades.
"We are delighted to welcome Mary to our management team," said Jim Brady, Chief Operating Officer of Accumen. "Her distinguished track record in hospital management and leadership is a great addition to Accumen as we continue enhancing our lab transformation solutions with a focus on excellence. We are confident that Mary's background and proven record of success, combined with Accumen's mission of Profoundly Impacting Healthcare(TM), will provide great value to our clients."
Kopp is a trained and certified member of the National Integrated Accreditation for Healthcare Organizations (NIAHO), and earned a Master of Nursing Science in Leadership degree. Kopp is joining Accumen from HonorHealth (formerly known as "Scottsdale Healthcare") in Scottsdale, Arizona, where she served as Associate Vice President and Associate Chief Nursing Officer and oversaw the development of a new hospital.
Disclaimer: Accumen has no authority, responsibility or liability with respect to any clinical decisions made by - or in connection with - a provider's laboratory, patient blood management, or other operations. Nothing herein and no aspect of any services provided by Accumen is intended - or shall be deemed - to subordinate, usurp or otherwise diminish any providers' sole authority and discretion with respect to all clinical decision-making for its patients.
About Accumen
Accumen is a healthcare transformation company. Using a proven blueprint, innovative customized approach and proprietary technology, Accumen partners with health systems to set new standards of performance in the hospital - performance that drives higher quality, better service and unprecedented value. Accumen delivers proven results in Laboratory operations, Patient Blood Management as well as customized services for smaller regional systems with solutions that are designed to help clients create healthier labs, healthier hospitals and ultimately, healthier communities.
Accumen® – Accelerating Breakthrough Performance™. Find more information at http://www.accumen.com.