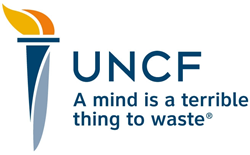 Philadelphia (PRWEB) February 12, 2016
UNCF Philadelphia local office will hosts its second annual Delaware Valley Women of Faith for education afternoon tea on Feb. 18th at the Radnor Valley Country Club at 2 p.m. UNCF's Women of Faith for Education Afternoon Tea honors women from the Delaware Valley who have contributed to the cause of education for our young people—the leaders of the past, present and future. This year's keynote speaker is Amanda Washington, great-great granddaughter of civil rights icon Booker T. Washington and graduate of UNCF member-institution Spelman College. Entertainment will be provided by jazz artist, Gerald Albright.
"I am proud to support UNCF as they continue to provide resources for minority students while investing in Better Futures®," said Amanda Washington." "As a graduate of an HBCU myself, I would definitely say that Black colleges are relevant. They serve both an historical and present-day purpose as pillars of the African-American community and continue to remind us of the progression that our community has made."
More than 250 business, education, and religious leaders will be in attendance including event co-chairs: Dr. Debbie Bullock of Canaan Baptist Church (Delaware), Dr. Lisa Croft of St. Paul's Baptist Church, Tanya Quann of Bethlehem Baptist Church and Ellyn Jo Walker of Enon Tabernacle Baptist Church. Faatimah Gamble of United Muslim Masjid, whom is one of 28 Committee members, will also be in attendance.
Who: UNCF Philadelphia Area Office
What: Second Annual Delaware Valley Women of Faith for Education Afternoon Tea
When: Thursday, February 18, 2016, 2 p.m. Reception; 3 p.m.-5 p.m. Afternoon Tea
Where: Radnor Valley Country Club, 555 Sproul Road, Villanova, PA
For more information and sponsorship opportunities, contact Gregory L. Lyles at 215.925.9044 or greg(dot)lyles(at)uncf(dot)org.
###
About UNCF
UNCF – (United Negro College Fund) is the nation's largest and most effective minority education organization. To serve youth, the community and the nation, UNCF supports students' education and development through scholarships and other programs, strengthens its 37 member colleges and universities, and advocates for the importance of minority education and college readiness. UNCF institutions and other historically black colleges and universities are highly effective, awarding 20 percent of African American baccalaureate degrees. UNCF administers more than 400 programs, including scholarship, internship and fellowship, mentoring, summer enrichment, and curriculum and faculty development programs. Today, UNCF supports more than 60,000 students at over 900 colleges and universities. Learn more at UNCF.org.