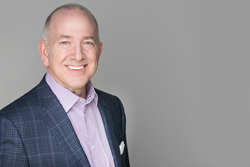 Kevin brings an expertise in building and leading sales teams, and implementing structured methodologies to shorten sales cycles, providing a more positive customer experience
Portland, Ore. (PRWEB) February 17, 2016
Viewpoint Construction Software®, a leading provider of innovative software solutions to the construction industry, welcomes Kevin Carr as VP of North America Sales. Maury Plumlee, who has been a sales leader with Viewpoint for more than 35 years and most recently served as VP of North America Sales, moves to lead the organization's marketing efforts as VP of Global Marketing.
Kevin has a proven track record of successful sales leadership and brings more than 20 years of experience with leading technology firms. He most recently served as Senior VP of Sales for Deltek, the acknowledged leader in providing ERP solutions for architects, engineers and project-based businesses. Prior, Kevin was VP of World Wide Sales with Intellitactics, Inc., a provider of security incident and event management software solutions, based in Reston, VA.
"Kevin brings an expertise in building and leading sales teams, and implementing structured methodologies to shorten sales cycles, providing a more positive customer experience," stated Manolis Kotzabasakis, Viewpoint CEO. "Our organization will benefit from Kevin's proven leadership, ingenuity and noted ability to utilize technology tools to increase customer value and at the same time improve effectiveness and performance of his teams."
About Viewpoint Construction Software
Viewpoint is a provider of innovative construction-specific software solutions to the global construction and capital project industries. Viewpoint provides the tools they need to improve project profitability and visibility, manage risk, and effectively collaborate with the entire project team. Viewpoint solutions include everything needed from preconstruction to construction and facilities maintenance, and are offered on a variety of platforms, including Cloud, Mobile, SaaS and On Premises. Headquartered in Portland, Oregon, USA, and with offices in the UK and Australia, Viewpoint has become the technology partner of choice, with customers located across the globe in more than 28 countries. These customers include more than 40 percent of the ENR 400, and over 20 percent of the ENR 600. For more information, please visit http://www.viewpoint.com.
© 2016 Viewpoint, Inc. dba Viewpoint Construction Software. All Rights Reserved. Viewpoint®, Viewpoint Construction Software®, Vista™ by Viewpoint, ProContractor™ by Viewpoint, Viewpoint For Content Management™, Viewpoint For Mobile™, Viewpoint For Projects™, Viewpoint For Field View™, Viewpoint For Estimating™, and Jobpac by Viewpoint are trademarks or registered trademarks of Viewpoint, Inc., in the United States and/or other countries. Other names and brands may be claimed as the property of others.