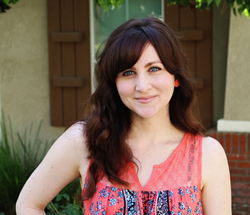 The future you imagine for yourself can be real if you cast aside all fears, doubts, and negative influences
Los Angeles, CA (PRWEB) February 16, 2016
"Working endless hours at a difficult job made my mind wander," author Rebecca Lynn Morales says, "Between tasks, I'd gaze at beautiful landscape designs and imagine magical creatures and their exciting adventures."
Morales aspired to be an author from a young age, but a series of discouraging events temporarily changed her mind. "I had an English teacher in middle school that I very much respected. When I presented my first short story to her and asked for feedback, she practically threw the papers at me saying, 'If it's not an assignment, then I'm not interested.' Years passed before I ever wrote creatively again."
A transplant from northern California, Morales attended California State University, Northridge as a theatrical arts major. "I was too disheartened to write. Theater became the way I scratched that incessant creative itch." After graduating, Morales struggled to make a living as an artist and eventually found herself rooming with her brother while working long hours in an exterior design firm. "While my responsibilities were less inventive, I enjoyed seeing the designer's resplendent and varied creations come to life. His creativity sparked my imagination. I soon spent every free moment typing out story and character ideas which became my debut children's novel."
"Walter Plume and the Dehydrated Imagination" follows a young boy who stumbles into a fantasy world of oppressed elves. There, Walter learns the environment is dying because of the insatiable greed of their power-hungry leader, Ickabod Von Snot-hook. Soon Walter discovers he has the power to resurrect plants with his imagination. An epic battle ensues and Walter must convince the downtrodden creatures that hope lies beyond their society's stringent rules, and that they must fight to restore the world they once loved.
Even now, Morales's chosen career and recent successes are often met with incredulity. "When I finally summoned the courage to announce that my book was being published, an acquaintance immediately said, 'That's great. Did you have a ghostwriter?' And I was like, 'Wow, that's incredibly rude. I am more than capable of putting words to paper by myself.'" Morales adds, "Incidents like this illustrate the theme of my book, the same message I strive to live by every day: the future you imagine for yourself can be real if you cast aside all fears, doubts, and negative influences, and devote yourself to getting your message out."
For more information about Morales or her book, visit RebeccaLynnMorales.com or WalterPlume.com. "Walter Plume and the Dehydrated Imagination" is available wherever books are sold.