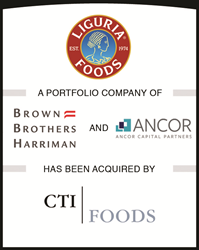 CHARLOTTE, NC (PRWEB) February 18, 2016
BlackArch Partners is pleased to announce the sale of Liguria Foods, Inc. ("Liguria" or the "Company"), a portfolio company of BBH Capital Partners and Ancor Capital Partners, to CTI Foods, a portfolio company of Thomas H. Lee Partners and Goldman Sachs & Co.
Founded in 1974 and headquartered in Humboldt, Iowa, Liguria (http://www.liguriafoods.com) is a value-added foodservice solutions partner that manufactures high-quality branded and private label pepperoni for the large, expanding $1 billion U.S. pepperoni market, with a particular focus on independent and multi-unit pizzerias and sandwich shops. The Company supplements its pepperoni offering with a full suite of other dry sausage products and protein pizza toppings. Liguria has aggressively built market share by combining highest-quality ingredients, consistent recipe formulation and Old World processing techniques with a commitment to understanding and addressing customer needs.
BlackArch was retained by BBH Capital Partners, Ancor Capital Partners and management to serve as their exclusive financial advisor.
Brad Langer, Managing Director and Co-Manager of BBH Capital Partners, commented: "We had high expectations when we selected BlackArch to represent Liguria Foods and they exceeded these expectations. From start to finish, their level of organization, unwavering commitment to client service, deep level of professionalism and determination to generate an outstanding outcome were very evident. BlackArch also made certain that they had an extremely thorough knowledge of Liguria's business and its market. This knowledge made a difference and also resonated very well with Liguria's management team as we all thought through the strategic options for the Company. We look forward to working with BlackArch on additional assignments in the future."
Lance Chambers, CEO of Liguria, added: "I was extremely impressed with the level of detail and outstanding service that BlackArch provided from start to finish. They were an outstanding partner throughout the entire process. Their entire team from Analyst to Managing Director was engaged and available throughout the entire process. The BlackArch team worked tirelessly and provided sound guidance to ensure the completion of a successful transaction for Liguria Foods and our shareholders."
About BBH Capital Partners
BBH Capital Partners, a private equity fund sponsored by Brown Brothers Harriman & Co., provides friendly capital solutions to growth-oriented middle market companies. The firm typically invests between $25 million and $100 million per platform investment and has the flexibility to act as a control or non-control investor.
About Ancor Capital Partners
Ancor Capital Partners, based in Southlake, Texas in the Dallas/Ft. Worth metroplex is an operations-oriented private equity firm focused on lower middle-market companies with EBITDA of $5-$15 million. Extensive operational experience gives the Ancor team a unique understanding of the critical business issues faced by lower middle-market companies. Ancor's proven track record includes 45 acquisitions to date in healthcare, consumer and other industries.
About BlackArch Partners
BlackArch Partners is a leading middle‐market investment bank offering a full spectrum of advisory services to financial sponsors, private companies and diversified corporations. BlackArch addresses the needs of owner‐operators, founders and shareholders of private companies with specialized services that include M&A advisory, strategic advisory and private capital solutions. Headquartered in Charlotte, NC, with offices in Houston, TX, BlackArch features a total of 12 industry‐focused practices that cover all sectors of interest to middle‐market investors; BlackArch professionals have closed more than 300 transactions in 16 countries on four continents. Please visit our website, blackarchpartners.com, for more details.
Securities offered through BlackArch Securities LLC. Member FINRA and SIPC. Testimonials may not be representative of the experience of all clients. Testimonials are not a guarantee of future performance or success.