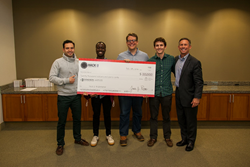 The Hackathon is not just about an app working as designed. It is also about the teams working together to create a result that is useful to its target audience.
Norfolk, VA (PRWEB) February 12, 2016
On February 4-5, Dominion Enterprises (DE) sponsored its annual hackathon, "Hack U - Coding Student Life," at its headquarters in Norfolk, Va. The winning team from William and Mary was awarded a $20,000 scholarship at the end of the competition.
Like most hackathons, the event challenged participants to create working computer programs and products. This time, each team was made up of four or five students from surrounding colleges (Old Dominion University, Norfolk State University, ECPI, etc.). These teams were tasked with building, designing and developing innovative and polished apps in a fast-paced setting. The ultimate goal for these apps is to support and enhance the modern student experience.
The teams consisted of marketing, business, design and engineering students. From Dominion Enterprises, two or three IT professionals, marketing professionals and graphic designers coached each team. While back-end coding skills are imperative in creating these apps and marketing skills are needed to promote them, students soon realized graphic design is just as important in making the apps visually appealing to users. The culmination of all these factors yielded some interesting products.
The Hackathon is not just about an app working as designed. It is also about the teams working together to create a result that is useful to its target audience. Over the course of two days, the teams competed for first, second and third place. One of the three NSU teams developed "Project Spartan," a digital student ID card that would facilitate payments and dorm access, and replace other forms of access and identification for students. The team placed third, with each participant receiving $25. "HapU," developed by "The Best W&M Team," focused on events, hangouts and even pick-up sports occurring in real time. Nearby events happening within the next 45 minutes trigger push notifications to users' phones. Also, an interactive map helps students find those activities. The team placed second and received a 32GB Apple TV.
The winning team consisted of Nathan Owen, Kelvin Abrokwa, Ben Dykstra and Ulises Giacoman of William and Mary. Their project, "Astüte," is designed to quickly find the most relevant study groups for current courses based on a student's major and course catalog pulled directly from the W&M website. Astüte was featured a RESTful API and a stunning user interface. After the Hackathon, Nathan Owen said, "I will certainly be coming back next year! I highly encourage technologically inclined college students of all kinds to attend. Whether you're shooting to win or learn something new, it's definitely a good time."
Kate Hendel, a TCC student who is completing a Database Specialist certification, praised the Hackathon, saying, "I was exposed to new technologies I never heard of before. It was a great experience."
A TCC professor, Lisa Carter, commented, "Thank you again to the entire DE team for all of its support and encouragement of the TCC team. It was definitely a rewarding and invaluable experience for all the students! They are still talking about it and encouraging others to participate. We look forward to participating in future events and continuing the relationship we have built with Dominion Enterprises."
About Dominion Enterprises' Hackathons
Three times a year, Dominion Enterprises hosts a hackathon. The hackathon series consists of a university student focused hackathon, an internally focused innovation hackathon for DE employees, and an external community focused public hackathon. Each event has a unique theme and includes a team-based format.
One of Dominion's hackathon goals is to keep top talent in the Hampton Roads area by reaching out to the community and local universities while creating a fun, innovative place to work. The events are organized by Dominion Enterprises TTAG (the Technology Talent Acquisition Group led by Melodi Albert). While the events are great for recruiting and retention, the real rewards are team collaboration, learning and experimental development fun.
About Dominion Enterprises
Dominion Enterprises is a leading marketing services and publishing company serving the automotive, recreational and commercial vehicle, real estate, apartment rental, parenting, and travel industries. The company's businesses provide a comprehensive suite of technology-based marketing solutions including Internet advertising, lead generation, customer relationship management, website design and hosting, and data management services. The company has more than 45 market-leading websites reaching more than 20 million unique visitors monthly. More than 46 million For Rent® and HotelCoupons.com® publications are distributed nationwide each year. Headquartered in Norfolk, Virginia, the company has 3,300 employees in more than 105 offices in the United States, Canada, England, Spain and Italy. For more information, visit DominionEnterprises.com.