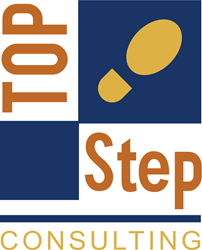 SuiteWorld provides an exciting and valuable experience for NetSuite OpenAir users in that it gives them an opportunity to discuss their experiences with OpenAir" says Jodi Cicci, TOP Step Consulting President and CEO
Chantilly, VA (PRWEB) February 16, 2016
TOP Step Consulting LLC, an award-winning professional services consulting firm specializing in professional service automation (PSA) has announced that it will be a Silver sponsor at this year's SuiteWorld business technology conference. The event is held by NetSuite, a leading provider in cloud business software, and will take place May 16–19, in San Jose, Calif.
TOP Step Consulting improves business efficiency and productivity for professional services organizations through implementation and integration of professional services automation (PSA) tools. They have extensive experience with NetSuite OpenAir, both as a user and through implementing the software for NetSuite customers for over eight years. TOP Step will showcase the benefits of NetSuite OpenAir by offering one-on-one sessions where customers can receive advice on how they can best apply NetSuite OpenAir, and integrate the technology into their day to day business processes. TOP Step will also provide an OpenAir "Best Practices" session on the expo floor that will give attendees a practical demonstration of how they can apply OpenAir tools.
"We look forward to networking with OpenAir customers this year at the SuiteWorld conference. SuiteWorld provides an exciting and valuable experience for NetSuite OpenAir users in that it gives them an opportunity to discuss their experiences with OpenAir and address any challenges they may be having. We anticipate several days of collaborating with our partners and customers to grow and solidify our business relationships, which is a win for all of us" says Jodi Cicci, TOP Step Consulting President and CEO.
Held annually, SuiteWorld is NetSuite's largest user conference designed specifically for NetSuite customers, partners and developers. SuiteWorld brings together stakeholders and users to explore and learn, and to network face-to-face in an effort to shape the next phase in cloud computing services. Event features will include stimulating keynotes from NetSuite executives including Zach Nelson, President and Chief Executive Officer, and Evan Goldberg, who is the Founder, Chief Technology Officer and Chairman of the Board. Attendees will have the opportunity to network with more than 7,000 anticipated attendees, 200+ breakout sessions and more than 100 value-added solutions in the SuiteWorld Expo.
ABOUT TOP STEP CONSULTING
TOP Step Consulting improves business efficiency and productivity for Professional Services business operations. They help clients achieve their profitability goals allowing them to focus on building their business. Their team has extensive experience in professional services business operations, professional services automation (PSA), and project management. They have served over 270 organizations across the globe and have been awarded "Best of the Best" by SPI Research and named as one of the fastest-growing private companies by Inc. 5000. TOP Step attributes this success to the stance that each engagement is as important to them as it is to their client. To learn more please visit http://www.topstepconsulting.com.