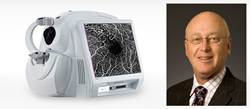 ...OCTA is going to be a game changer.
Springfield, MO (PRWEB) February 13, 2016
Good news for retinal patients in the Ozarks: Mattax Neu Prater Eye Center becomes the first in the area to offer AngioPlex™ Optical Coherence Tomography (OCT) Angiography, imaging technology used to more easily identify the earliest signs of retinal disease, such as macular degeneration, diabetic retinopathy, and other vascular conditions.
In just a few seconds, OCT angiography (OCTA) takes a single, non-invasive scan of the retina to produce a high-resolution view of the separate layers of the retina and its blood vessels. Changes to these vessels often signal the progression of a retinal disease, so Mattax New Prater will use these OCTA images to potentially detect and manage even the earliest signs of eye diseases.
Retina and cataract surgeon Dr. Leo T. Neu III of Mattax Neu Prater is confident that OCTA is going to be a game changer.
"All the previous OCT models do not have the capability of seeing individual blood vessels without dye injection," Dr. Neu explains. "OCTA allows clinicians to see individual capillaries more clearly than with the fluorescein angiography which requires an injection of dye into the bloodstream to highlight ocular blood vessels in the back of the eye. Additionally, it greatly enhances our ability to view more areas of the eye that are critical to diagnosing retinal disease in just one image. "
Mattax Neu Prater Eye Center is a multi-specialty ophthalmology practice with multiple locations across the Ozarks. They provide a full range of eye care, from eye exams and diagnostic services to medical and surgical treatment for eye diseases and conditions. Call (800) 995-3180 to request an appointment or learn more at MattaxNeuPrater.com.