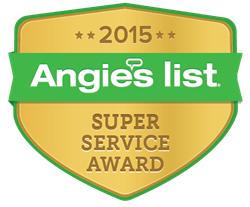 Our single goal is to provide the highest customer service available. This recognition from Angie's List and their customers helps us and others to know we are meeting that goal! - Mike Ricker, Crash of Rhinos Owner
Glendale, AZ (PRWEB) February 18, 2016
Angie's List recently announced that they have bestowed its Super Service Award on Crash of Rhinos Painting, recognizing the Glendale, AZ exterior home painting company as one of the best service providers in its field.
To receive the Super Service Award, Crash of Rhinos maintained a stellar consumer rating that put it in the top 5% of all painting businesses in the Phoenix metro area. Angie's List itself is a highly reputable service review site, with a foundation built on more than 10 million reviews.
"We are grateful our customers find our customer service to be exceptional," says Mike Ricker, Crash of Rhinos owner. "Our single goal is to provide the highest customer service available. This recognition from Angie's List and their customers helps us and others to know we are meeting that goal!"
Crash of Rhinos specializes in painting the exterior of stucco homes in the Phoenix metropolitan area. By doing the job right, providing a 7-year warranty on painting—which is 5 years longer than what is legally required—and providing excellent service to customers, Crash of Rhinos continues to make Valley homeowners fall in love with the look of their residences.
For more information about Crash of Rhinos, please visit http://www.crashofrhinospainting.com/
Crash of Rhinos is an Arizona-based home exterior painting company dedicated to providing Arizona the highest level of craftsmanship. Founded in 2006, CoR has grown from a staff of three to a full-fledged business that sends five painting crews throughout the Valley. Crash of Rhinos is proud to be the best-reviewed painting company in Phoenix, and with our strategic approach to color selection and our 7-year painting guarantee, it's not hard to see why. For more information, visit http://www.crashofrhinospainting.com.