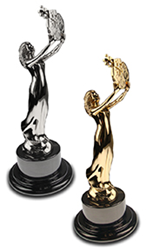 It is great to find that the industry echoes the success of these customer websites.
TAMPA, FL and DENVER, CO (PRWEB) February 16, 2016
Bayshore Solutions has won 10 2016 AVA Digital Awards for website design creativity and excellence in this international competition. Throughout its 20-year history as a Top Digital Marketing Agency, this is the most AVA Awards that Bayshore Solutions has won in a single year.
Platinum 2016 AVA Awards were earned by FIS Global's "Payments Leader" blog website, Morphogenesis, and Restaurant Magic websites. Gold AVA Awards recognize creative excellence of the David A. Straz, Jr. Center for the Performing Arts, Lee Roy Selmon's Restaurant, Physicians Leadership Institute and QC Energy Resources websites. AVA outstanding honors were given to Cee Bee's Citrus, Port Canaveral, and the Columbia Restaurant websites.
The AVA Digital Awards is sponsored and judged by the Association of Marketing and Communication Professionals (AMCP) and recognizes outstanding achievement by creative professionals involved in the concept, direction, design and production of media that is part of the evolution of digital communication. Nearly 2,100 entries from throughout the United States, Canada and several other countries entered the 2016 competition. AMCP judges are industry professionals who look for companies and individuals whose talent exceeds a high standard of excellence and whose work serves as a benchmark for the industry.
"Bayshore Solutions is honored to have this record number of AVA Digital Award winning websites," said Kevin Hourigan, President and CEO of Bayshore Solutions. "We strive to create websites and digital marketing for our customers that impress and entice their audiences to action. It is great to find that the industry echoes the success of these customer websites."
View more of Bayshore Solutions' award winning results in web design and digital marketing here.
ABOUT BAYSHORE SOLUTIONS
Digital marketing agency, Bayshore Solutions, offers award-winning capabilities for custom web design, website development, e-commerce, and Internet advertising. Founded in 1996, the website design and digital marketing agency delivers custom web applications and marketing services throughout the USA and internationally. From offices in Denver, Colorado, Tampa and Miami, Florida, Bayshore Solutions integrates technology and marketing expertise to ensure measurable success for customers.
# # #