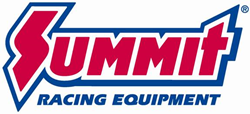 (PRWEB) February 14, 2016
Now available at Summit Racing, Nitrous Oxide Systems (NOS) Sniper Systems include practically everything required to install a safe and reliable nitrous system. Having all the parts come in one box also keeps the overall cost of the kits low.
NOS Sniper Nitrous Systems is plate-style system that injects nitrous and fuel from an injector plate under the carburetor. Multiple jets are included for adding an instant 100, 125, or 150 horsepower to your engine.
Each kit comes with a 10 pound, bright orange nitrous oxide bottle, aircraft quality stainless steel braided hose assemblies, nitrous and fuel solenoids, mounting brackets, and electrical writing necessary for installation.
PowerNation TV's Detroit Muscle team used a NOS Sniper Nitrous System to liven up its Chevy-350 swapped 1986 Chevy Camaro IROC-Z. On the dyno, even with a conservative tune, the mouse motor delivered 294 wheel horsepower with a 100 shot of nitrous oxide from the Sniper system. Watch the full episode.
Summit Racing Equipment
http://www.SummitRacing.com
1-800-230-3030