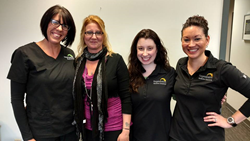 I was 38 when I was diagnosed and they said I had 10 years. I'm a nurse, and there was no way that was going to happen.
Pittsburgh, PA (PRWEB) February 16, 2016
Lung Institute patient Tammi S. reports a significant improvement in her quality of life and pulmonary function after receiving regenerative cellular therapy from the Pittsburgh clinic in August of 2015. Tammi's pulmonary function test (PFT) score increased from 63 to 93 percent, a 47.6 percent increase. The Lung Institute uses autologous, or self-derived, stem cells to promote pulmonary healing in a minimally invasive, outpatient procedure that has helped many patients like Tammi.
Tammi has chronic obstructive pulmonary disease, or COPD, and refused to give up after receiving a dire prognosis before the age of 40. "I was 38 when I was diagnosed and they said I had 10 years," Tammi stated. "I'm a nurse, and there was no way that was going to happen. I researched and saw good things about you guys."
Tammi started to feel better shortly after receiving therapy from the Lung Institute. "I feel almost normal," she reported. "I can walk. I workout every day and walk five miles. We have a beach pass that you have to walk down steps. I walk up and down. I can do 480 steps. I was lucky if I could do five before."
Tammi isn't the only patient who has seen improvement after receiving treatment. According to a white paper recently published by Lung Institute doctor Jack Coleman, Jr., M.D., 84 percent of Lung Institute patients with COPD reported an improvement in their quality of life. Many patients also saw an improvement in their pulmonary function.
Since July of 2015, the Lung Institute's Pittsburgh clinic has treated over 200 patients. Pittsburgh is notorious for high pollution levels that may contribute to more cases of lung disease than in other areas of the country. The Lung Institute provides lung disease sufferers such as Tammi with more options than those prescribed through traditional medicine.
About the Lung Institute
The Lung Institute, founded in 2013, is a leading medical provider of regenerative cellular therapy for lung diseases such as chronic obstructive pulmonary disease (COPD), pulmonary fibrosis and interstitial lung disease in the United States. Based in Tampa, Fla., the Lung Institute currently has clinics in Nashville, Tenn., Scottsdale, Ariz., and Pittsburgh, Pa., with plans to open three new locations in 2016. To date the organization has treated over 1,800 patients, helping them breathe easier in their fight against lung disease. For more information, please visit http://www.lunginstitute.com or call (800) 382-8095.