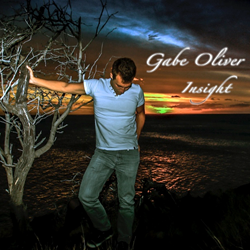 'I've been told it's all for nothing, that we will never change this world, but if you can feel your heart beat then there is life within your soul and I believe in you.' - Gabe Oliver
Lahaina, HI (PRWEB) February 13, 2016
Young singer/songwriter Gabe Oliver has been surfacing quickly through his YouTube videos, which have received more than 40,000 views in the last month. These videos are live recordings of original songs he wrote about subjects both environmental and political. He shares a message of hope and change for the world while also touching on controversial topics regarding the way the world is living as a society currently.
In one of his songs titled "Detrimental," he touches on the environmental concerns, singing:
"Used to see the stars at night then the sun rise up to a sky so blue. Who knew we'd give it up for plastic dreams and oil residue."
He then shares a more political view on the situation in the last verse of the song, singing:
"Looking back on what has been, it's hard to find the true essence of a world environment run by corrupt corporations who can't envision life without a currency, it's greed, who can not comprehend or understand this world equality."
The Gabe Oliver music project began at the end of December 2015, when he released his song titled "Humane Society" on YouTube, suggesting today's society is not as humane as it should be and that the world should work to create a more humane society for the future. This song was featured in a local news article on "Maui Now News."
Oliver was invited to play at an artist showcasing of ukulele players in Maui after being seen street performing. Following Oliver's performance, the manager mentioned that this had been the biggest showing at this event. However, after hearing the lyrics of the original songs, the general manager questioned if he should invite Oliver back to the stage, as he felt it raised too much of a controversy for this type of event.
"The music is just the beginning. I truly have a deep desire in my heart to make an impact in our world for the better," Oliver said.
Oliver refers to himself as a "Ukulele Singer-Songwriter and World Change Visionary" on his website at http://www.gabeoliver.com, where you will also find all of the videos and lyrics to his songs.
Determined to send his message of hope and change to the world, Oliver is working to record multiple albums this year with all of these songs featured on them. The first album to be released is titled "Insight" and will be available at the end of May 2016.