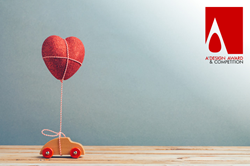 Como, Italy (PRWEB) February 13, 2016
A' Design Award and Competition today launched a new campaign "Valentine's Day 1+1" in order to share the love for design. In upcoming days for the celebration of Valentine's Day A' Design Award and Competition invites designers, architect, photographers and artists to submit projects and be supported by a lovely person.
The "Valentine's Day 1+1" campaign is on between 12 and 15 February and offers a special nomination ticket. Purchase of the nomination ticket with Valentine's Day campaign will guarantee an additional free entry ticket that can be used by beloved person. Promotion provides a great chance to present a gift for Valentine's' Day which enables people to share passion in design with and spread love. Moreover, free entry ticket is also a great unforgettable present since it will not only let the person to nominate the project for a prestigious design award but as well can bring fame and recognition to a winner couple. The campaign is available for designers with a diverse creative backgrounds, such as architects, interior designers, product engineers, industrial designers, fashion designers, artists and photographers
Furthermore, in addition to the exclusive "Valentine's Day 1+1" campaign, A' Design Award and Competition has also presented another way of celebrating Valentine's Day for the people who love design. One of the most exquisite gifts for a designer friends and fellows could be the A' Design Award & Competitions' Gift Cards.
Deadline for entries to A' Design Awards is on February 28, 2016 with results announcement on April 15, 2016. Winners of the International A' Design Awards and Competition will be granted the highly coveted A' Design Prize that includes a series of PR, marketing and publicity tools together with Design Excellence Certificate, Exclusive Design Award Trophy, Lifetime license to use the A' Pet Supplies and Products for Animals Design Awards Winner Logo, Yearbook of Best Designs, Exhibitions of Awarded Works and Two-Person Invitation to Design Awards' Gala-Night in Como Lake, Italy.
About the A' Design Award
A' Design Award and Competition is the World's leading and largest design accolade organized in more than hundred different categories. The A' Design Award is open to entries from all countries since competition has been recognizing, highlighting and promoting excellent designers worldwide. The ultimate aim of the A' Design Award is to create a global awareness and appreciation for good design. Learn more about the design accolade at: http://www.designaward.com