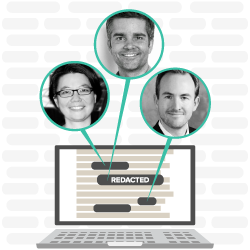 Technology has made the process of identifying and redacting PII easier than it has ever been.
Chicago, IL (PRWEB) February 15, 2016
kCura, developers of the e-discovery software Relativity, recently announced an upcoming webinar, "How to Prevent the Disclosure of PII." The webinar will be held Thursday, February 18 at 11:00 a.m. CST with panelists Hunter McMahon from Altep, Scott Monaghan from Milyli, and Aileen Tien from kCura.
In the webinar, presenters will describe how e-discovery search methodologies and technology can help minimize the risk of disclosing PII when producing documents for litigation or in compliance with regulatory requests.
"While review for relevancy is a standard part of the discovery workflow, reviewing for PII is often not," says McMahon. "Unfortunately, however, PII is often included in discovery data collections. In-house counsel today must assume that there is sensitive information in any corpus of documents to be produced, and it is in their best interests to put certain safeguards in place to prevent its disclosure."
To better prepare attorneys, compliance officers, and information security professionals responsible for ensuring the protection of PII, the webinar will cover:

The types of PII that may be hidden in an organization's data
What can go wrong, what has gone wrong, and how to prevent it
How to be both thorough and cost-conscious when protecting sensitive information
"Technology has made the process of identifying and redacting PII easier than it has ever been," says Tien. "When PII is known or assumed to be present, there are some pretty simple steps in-house and outside counsel can take to systematically identify potential instances of PII."
Adds Monaghan: "Attorneys no longer have to look for individual instances of PII—they can search for patterns of information, such as social security numbers, and automatically redact them."
To join the webinar or receive access to the recording, register on the Relativity website.
About kCura
Recognized as a "Leader" in Gartner's 2015 E-Discovery Magic Quadrant, kCura are the developers of the e-discovery software Relativity. Relativity has more than 130,000 active users in more than 40 countries from organizations including the U.S. Department of Justice and more than 190 of the Am Law 200. kCura helps corporations, law firms, and government agencies—numbering more than 10,000 organizations—meet unstructured data challenges by installing Relativity on-premises and providing hosted, on-demand solutions through a global network of partners. kCura has been named one of Chicago's Top Workplaces by the Chicago Tribune for five consecutive years. Please contact kCura at sales(at)kcura(dot)com or visit http://www.kcura.com for more information.
About Altep
Altep, Inc. is an Orange-level Relativity Best in Service Partner, with certified Experts, Administrators, Analytics Specialists, Reviewer Specialists, Assisted Review Specialists, Infrastructure Specialists, and Sales Professionals on staff. The firm assists Fortune 100 and AM Law 100 clients with data forensics, discovery management, and compliance risk assessment. e-Discovery services include early data assessment, ESI and traditional paper processing, and secure hosting.
Altep's data and process management experts hold a variety of certifications and credentials, including Project Management Professional, EnCase Certified Forensic Examiner, Certified Forensic Computer Examiner, Licensed Private Investigator, Certified Information Systems Security Professional, Certified Information Privacy Professional, SNIA Certified Storage Professional, and Content Analyst Advanced Analytics Certification. Find more information about Altep, Inc. at http://www.altep.com.
About Milyli
Milyli, a Relativity developer partner, offers a variety of ways to customize your organization's interaction with Relativity and improve your e-discovery workflows. Whether you're looking to hit the ground running with an off-the-shelf application or a custom solution built from scratch, Milyli understands your e-discovery pain points and can deliver a better, more efficient review. Blackout, one of three Milyli applications in the Relativity Ecosystem, is an assisted-redaction application that automatically redacts and highlights documents based on your criteria to streamline your review workflow. To learn more about Milyli, visit http://www.milyli.com.