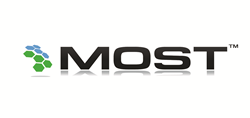 Lebanon, GA (PRWEB) February 15, 2016
TCRDS (http://www.tcrds.com), an industry leader in delivering multichannel order system technology to retailers and direct marketing merchants of all sizes and across all sectors, announced today that its flagship order management software "MOST" is now integrated with Bronto's automated marketing platform for ecommerce.
TCRDS's MOST, which stands for MultiChannel Order System Technology, empowers ecommerce retailers to pull all of their disparate sales streams (e.g. CommerceV3, MarketLive, Magento Enterprise, Webbasix and many others) into a single, easy-to-manage system so they can accurately and efficiently track and manage their business, and ultimately increase efficiency, customer satisfaction, sales and profits.
Thanks to the new integration, MOST customers can now leverage a suite of advanced features that have made Bronto the world's top email marketing provider to the Internet Retailer (IR) 1000 in 2014 and 2015, respectively. These features include:

Campaign management dashboards to manage every aspect of email and cross-channel marketing programs.
Lifecycle marketing tools to reduce cart abandonment and generate repeat customers.
A scaleable and segmented marketing database to transform customer insights into actionable intelligence.
Mobile email tools to design mobile-friendly email and SMS campaigns, and increase customer lists through text-to-join.
"Each year, a growing number of successful businesses are using Bronto's automated marketing platform to improve and enhance their marketing processes," commented Thomas Reid, TCRDS's Founder and CEO. "This integration enables MOST customers to leverage Bronto's acclaimed capacity to deliver timely, relevant and data-driven digital marketing that fuels engagement throughout the customer lifecycle, and most importantly, drives more revenue."
More information about TCRDS's MOST is available at http://tcrds.com. Businesses can also discover valuable insights by reading Reid's article entitled "Choosing an Integrated Marketing Platform", which is available here.
About TCRDS Incorporated
TCRDS is an industry leader in providing multichannel order system technology to retailers and direct marketing merchants of all shapes and sizes. With the proven track record of over 30 years providing order systems solutions for retailers and direct marketers, the company has the expertise, the know-how and the flexibility to automate and integrate its clients' various sales channels into one easy-to-manage system – ultimately so they can get the edge they need to stay on top of their business, and ahead of their competition. Learn more at http://www.tcrds.com.