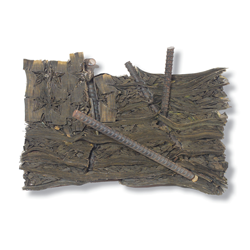 I create assemblages that include collage elements that interest, intrigue or scare me.
Wilton, CT (PRWEB) February 16, 2016
From March 3 through March 6, 2015 at Pier 36, 299 South Street, in New York City, browngrotta arts will exhibit at the fair that Artnet has dubbed "a new kind of art fair."
Many of the artists featured in the fair cut, fold, draw or print on paper and among the works browngrotta arts will feature in its display at art on paper will be Helena Hernmarck's color-washed collage prints and Insight, a Katagami-style handcarved paper wall sculpture by Jennifer Falck Linssen. Other artists whose work browngrotta arts will exhibit at take a more immersive approach to the medium – stacking, molding, carving, stitching and weaving paper, as others would wood, linen, clay or marble. Examples include Takaaki Tanaka's Hardened Nest series, spidery cubes of papier mache shown singularly and in groups, browngrotta.com/pages/hunt.php [Kate Hunt's __title__ Kate Hunt] "flag" of stacked newspaper and rebar and Norma Minkowitz's stitched drawings. Best known for her sculptures, Minkowitz has been creating her intensely detailed pen-and-ink drawings for many years, but only recently begun to exhibit them. They are complex assemblages that include collage elements that the artist says, "interest, intrigue or scare me." 
Working in concert with Beneficiary Partner Brooklyn Museum, Creative Director Sasha Wolf and sponsor The Wall Street Journal, art on paper's second edition will feature special projects that push the boundaries of its celebrated medium.
The art on paper Opening Preview, benefiting the Brooklyn Museum, will be on Thursday, March 3, 2016, 6:00 p.m. to 10:00 p.m. The hours on Friday, March 4 and Saturday, March 5 are 11:00 a.m. to 7:00 p.m. Sunday, March 6 the fair is open from 12:00 p.m. to 6:00 p.m.
For more information visit: http://thepaperfair.com/ny/for-visitors/fair-dates-hours-location/ or http://www.browngrotta.com or call Tom Grotta at browngrotta arts: 203-834-0623. Follow browngrotta arts' blog, arttextstyle: http://arttextstyle.com/.
about browngrotta arts
browngrotta arts represents the work of more than 100 international contemporary textile and fiber artists. The firm has published 43 art catalogs and placed art work in dozens of private and corporate collections in the US and abroad, as well as in the permanent collections of the Metropolitan Museum of Art, Museum of Arts and Design, the Art Institute of Chicago, the Philadelphia Museum of Art, and the Renwick Gallery of the Smithsonian Museum. browngrotta arts' website, browngrotta.com, and its blog, arttextstyle.com, are destination sites for art consultants, interior designers, collectors and practitioners.