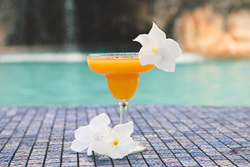 Experience a Caribbean spring break with no passport required
St. Thomas, USVI (PRWEB) February 16, 2016
Spring breakers seeking a laid-back tropical vacation need look no further than than own backyard. Their Caribbean backyard that is. St. Thomas in the US Virgin Islands has all the Caribbean experiences one could wish for without leaving the United States. All inclusive hotels like Sugar Bay Resort & Spa (which also has an a la carte options) offer up a spring break experience that simply can't be beat and right now the hotel is giving a 60% discount on bookings.
The three interconnecting freshwater pools just steps from the manicured lawns that separate the white sand beach adjoining Sugar Bar Resort & Spa couldn't be more inviting. The pools feature a volleyball net, a grotto with a refreshing waterfall, poolside games (like giant Jenga), and a swim up bar with non stop drinks. Caribbean beats with lyrics like 'do what you feel like' wash over the umbrella covered lounge chairs and bartender Justin will serves drinks - poolside or beachside.
The two most popular drinks at Sugar Bay Resort & Spa? Just ask Justin. He recommended a 'pain killer' which includes both light and dark run, pineapple orange juice, cream of coconut, and a dash of nutmeg. The other he brought was a Blue Virgin Island. Its delightful color matched the iridescent tiles at the swim up bar and was even better than imagined with a dash of vodka. Be sure to keep Justin talking because he's got an interesting story to share and all the details about where to go to party outside the resort. He came here on a one way ticket from Dallas and hasn't looked back since.
Spring breaks are all about the good times and there's more than beachside drinks to be had at Sugar Bay Resort & Spa. The resort features endless offerings on both land and sea including basketball and tennis courts, mini golf, snorkeling, catamaran trips, movie nights, and every Thursday a Carnival themed evening with fire dancers, stilt walkers, broken glass dancers, local vendors selling delightful souvenirs, live music, and plenty of food, drinks, and socializing. Group trips over to a real paradise on Earth - St. John and Cruz Bay (it's the island seen from the rooms at Sugar Bay Resort & Spa) are available. Once the sun sets at the resort things heat back up in the Ocean Club Lounge where a resident DJ spins heady beats and the latest hits.
Book now at Sugar Bay Resort & Spa and receive 60% off your stay.
Photo: Bit of Ivory Photography for Sugar Bay Resort & Spa