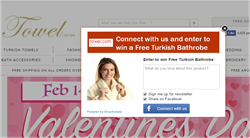 We are very pleased with the impressive sales conversion rate of 29.59% Towel.com has got from embedding ShopSocially's Social Connect and Get-a-Fan apps. - Barbaros Ozdogan, CEO at Towel.com
Santa Clara, CA (PRWEB) February 16, 2016
ShopSocially customer,Towel.com implemented an incentivized campaign to grow its fan base and increase sales simultaneously, resulting in a remarkable sales conversion rate of 29.59%. The retailer strategically placed ShopSocially's Social Connect and Get-a-Fan apps on its site to improve its fan base and conversion rate. Embedding Get-a-Fan app helped the etailer get a phenomenal increase in the fan base. They significantly increased the number of fans by 25 times within a period of twelve months. Once a visitor converted into a fan, Towel.com flashed the Social Connect app and offered a better incentive which urged fans to convert at an impressive rate of 29.59%.
"We are very pleased with the impressive sales conversion rate of 29.59% Towel.com has got from embedding ShopSocially's Social Connect and Get-a-Fan apps." commented Barbaros Ozdogan, CEO at Towel.com. "Our strategy was to first get our website visitors become a fan by offering them an extra 5% off their purchase in return for liking our Facebook page and follow through to convert them into customers. This approach worked wonderfully and ShopSocially's apps helped us to grow our fan base and increase sales within a short span."
ShopSocially's Social Connect app encourages visitors to engage with your brand using Facebook Connect. Visitors are encouraged to share their product reviews, recommendations on Facebook and become an email newsletter subscriber. The app allows you to offer your visitors a choice of incentivization options, from generic coupons to more complicated sweepstakes, designed to boost your brand's social connection, email acquisition and sales.
Get-a-Fan app is focused on turning your site's visitors into Facebook fans. The app delivers an average conversion rate of 2-5%; which is 100 times more engagement offered by a standard Facebook widget. Towel.com has seen a significant increase in the number of fans by using this app and increased its fan base by 25 times in 12 months.
"Strategically combining the Social Connect app and Get-a-Fan app has shown remarkable results for Towel.com. A sales conversion rate of 29.59% demonstrates the impressive impact of these apps." commented Samir Palnitkar, President at ShopSocially."ShopSocially is very pleased to provide the platform that made it possible for Towel.com to significantly increase its social media fans and sales."
About Towel.com
Established in 2002, Towel.com is the online home of luxury towels, robes, bath accessories and bedding. Based in Medley, Florida, Towel.com has become the recognized online retailer of top quality Turkish towels and bath products.
http://www.towel.com/
About ShopSocially
ShopSocially is a SaaS-based, social, referral and loyalty marketing platform that delivers up to 40% more revenue by enabling an increase in new customer acquisition, engagement, conversion rate and retention. More than 500 global brands are using ShopSocially to grow their business via proven strategies such as referral marketing, visual commerce, customer loyalty, social login, social gamification, customer Q&A and more.
ShopSocially platform offers a comprehensive suite of marketing solutions which eliminates the need to implement multiple, inconsistent solutions and delivers a measurable ROI. Our fully managed service option ensures no additional work for your marketing or IT team.
ShopSocially has won several awards and recognition's for its innovative technology. To learn more how ShopSocially can help grow your business, please contact us at (650) 701-7759 or at http://www.ShopSocially.com