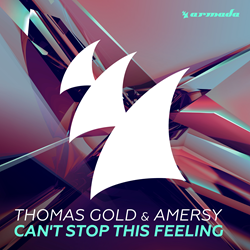 Gold takes nothing for-granted as he gives every ounce of his life force to his live performances.
New York, NY (PRWEB) February 16, 2016
Energetic. Powerful. Fearless. Berlin-based DJ and producer Thomas Gold is all of those things. As a producer and performer, he has one foot planted in the old-school of house music with the other firmly stomping in the modern age of commercial electronic dance music. His latest single is Thomas Gold & Amersy, "Can't Stop This Feeling" (Armada Music). The single is out now.
There's a forward-thrust and lusty propulsion on "Can't Stop This Feeling" that savvy house music-lovers will find irresistible, for as a producer and live DJ, Thomas Gold knows no fear. From the outset, the ruthlessly punchy 4/4 beat knocks the doors down and fire-bombs its way into one's gut with snarling, growling synths and horns so insistent they border on assault. Gold places his snares and rapid, machine-gunfire drum rolls with such an expert touch that the listener is already pummeled into sonic submission by the time the robotic, vocodered refrain enters, intoning, "Can't stop this feelin' / can't stop this feelin,'" as one imagines the crowd's energy swelling to the rafters. This high-energy track is unique and tweaky in a way that may well cause the most conservative adults to contort their bodies and twerk with abandon, powerless to resist. The dynamic, high-energy style of this track would fit perfectly into an action film sequence in the latest Jason Bourne or James Bond flick. The expert production of "Can't Stop This Feeling" is the reason the track can contain so many distinct sounds without them fighting against each other for headroom. The instant catchiness of this tune proves Gold's ability to deliver commercially viable music without ever compromising his dancefloor credibility.
Aligned with fellow DJ/producers Axwell, Armin van Buuren and Hardwell, Gold has released music on those artists' respective labels: Axtone, Armada Music and Revealed. Gold's remixes for Adele, Lady Gaga and One Republic have also earned him high praise in pop music circles as well as within the dance music scene. A further testament to his widespread appeal is the fact that Gold hosts his own "Fanfare" radio show on SiriusXM Radio in the U.S. and his DJ mixes are often heard on FM radio stations globally. He has performed every major festival and superclub the world over with an enthusiasm that's never dulled. Onstage, Gold takes nothing for-granted as he gives every ounce of his life force to his performance, working himself up to a sizzling frenzy and his crowds adore him for it. With a knack for creating dance music that's devilishly, deliciously good, one thing's for certain: Thomas Gold is the sound of now.
Listen to Thomas Gold & Amersy, "Can't Stop This Feeling," here: https://armas1128.lnk.to/CSTFBA
For more information on Thomas Gold, ARMIN van Buuren, Andrew Rayel, Giuseppe Ottaviani, Sylvia Tosun, MaRLo and more, U.S.-based media contact EMILY TAN Media Relations, +1(917) 318-3758, EmilyEmilyTan(at)aol.com. Follow EMILY TAN Media Relations on Twitter @EmilyEmilyTan.
# # #