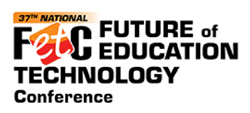 After a successful Future of Education Technology Conference 2016, our goal is to build upon that success.
(PRWEB) March 01, 2016
The National Future of Education Technology Conference (FETC), one of the largest edtech events in the U.S., announces its new hand-selected 2017 Advisory Board comprised of top leaders representing an array of education organizations and districts including Discovery Education, Google, Scholastic Library Publishing, Vanderbilt University, and more. In addition to a new board, FETC reveals Jennifer Womble as its newly appointed Conference Program Chair for 2017.
"The Advisory Board serves an important role in guiding our world-class educational technology conference," said Womble. "We believe it is critical that our partners provide advice, focused input and inspire change through a collaborative and informed dialogue on rapidly evolving educational technology issues impacting our attendees. The Advisory Board extends the influence of FETC by providing insight into trends and making recommendations on highly effective professional learning strategies, as well as offering guidance into overall program and conference development."
FETC Advisory Board members:

Christine Fox, State Educational Technology Directors Association (SETDA)
Tracy Hansen, Renaissance Learning
Dr. Ted Hasselbring, Vanderbilt University
Rushton Hurley, Next Vista for Learning
Devin Knighton , Canvas
Keith Krueger, The Consortium for School Networking
Wendy LaDuke, eSchool News and Women In Technology
Tricia Larson, Pearson
Tia Lendo, Google for Education
Gail Lovely, Trainer, Author and FETC Early Learning Summit Facilitator
Sylvia Martinez, Invent To Learn
Michael B. Meechin, Poinciana High School
Tom Murray, Future Ready Schools and FETC Executive Summit Committee
Coni Rechner, Discovery Education and Discovery Education Network (DEN)
Mary Schillinger, Las Virgenes Unified School District
Eric Sheninger, International Center for Leadership in Education (ICLE) and FETC Executive Summit Committee
Mark Smith, Michigan Association for Computer Users in Learning (MACUL) and FETC STEM Excellence Awards Committee
Kyle Christian Steele, SourceCodeB46
Cali Stringer, Florida Department of Education
Kari Stubbs, BrainPOP
Evan St. Lifer, Scholastic Library Publishing
David Tchozewski, Jenison Public Schools
Shelly Sanchez Terrell, Teacher Trainer, Elearning Specialist and Author
Bruce Umpstead, ScaleUp Education Partners
Vincent Varrassi, Learning Disabilities Specialist
Liz White, CDW
Brent Williams, Kennesaw State University iTeach Center
John Winkler, Houghton Mifflin Harcourt
"After a successful Future of Education Technology Conference 2016, our goal is to build upon that success," said Rebecca McKenna, VP of Global Events and Publisher at LRP. "That's why we hand-picked these expert leaders in the education technology industry to advise on expanding educational and technology offerings at the 2017 event."
Nearly 10,000 professionals from all 50 states and 49 countries attended the 36th annual FETC in Orlando, Fla. Superintendents, principals and vice principals, educators, district-level leaders, curriculum designers, media specialists, technology directors/technologists, and instructional and non-instructional support staff gathered to gain hands-on exposure to the latest software and successful implementation strategies through keynotes, sessions, workshops, the expo hall and more. FETC 2016 experienced a 10 percent increase in attendees under its first year of management by LRP Conferences.
"Year after year, FETC attendees look forward to exploring new tech and strategies for successful technology integration," said McKenna. "We will continue to exceed attendees' expectations by being at the forefront of the latest edtech trends plus continue to help CTOs, CIOs, Innovation Directors, Special Ed/Pupil Services Directors, Early Childhood Directors, Media Specialists and other educators stay current with premium edtech content to ensure student success now and in the future."
FETC 2016 provided pre-K to 12 educators and administrators access to more than 500 sessions and workshops focusing on key edtech trends such as science, technology, engineering and math (STEM) education; game-based learning; flipped learning; 3D printing; maker education; and mobile, online and blended learning. Keynote speakers included Reshma Saujani, founder and CEO of Girls Who Code; Leland Melvin, engineer, astronaut and former NFL player; as well as Sean McComb, National Teacher of the Year.
FETC 2017 will be held Jan. 24 - 27 at the Orange County Convention Center in Orlando, Fla. The conference is currently accepting proposals to present at FETC 2017. Leaders interested in presenting must submit proposals at http://www.fetc.org/speak.html by April 30, 2016.
For more information on FETC, please visit http://www.fetc.org. Join the conversation by following the conference on Twitter (@FETC) and using and searching the hashtag #FETC. For even more FETC updates, "like" FETC on Facebook and join the FETC LinkedIn group.
###
About the Future of Education Technology Conference (FETC)
The National Future of Education Technology Conference (FETC) annually attracts thousands of education and technology leaders from around the world. Delivering strategies and best practices for student success and schoolwide advancement, FETC is known as one of the nation's premier education technology events! Recognized for its outstanding program year after year, FETC provides CTOs, CIOs, Innovation Directors, Special Ed/Pupil Services Directors, Early Childhood Directors, Media Specialists, Technologists, Administrators and other Educators, the opportunity to explore the most effective integration of technology across the curriculum — from pre-K to 12 — through premium sessions, intensive workshops, various concurrent sessions, live demonstrations of several hundred hardware and software products, plus much more.
About LRP Conferences, LLC
LRP Conferences, LLC, an affiliate of LRP Publications, produces more than a dozen professional conferences and trade shows annually, including: Campus Technology Conference, Transformational Technology in Higher Education Conference, Ergonomics Conference & ErgoExpo, Future of Education Technology Conference (FETC), HR in Hospitality Conference, HR Technology Conference & Exposition®, Recruiting Trends Conference, and National Workers' Compensation and Disability Conference® & Expo.
About LRP Publications
LRP Publications, headquartered in Palm Beach Gardens, Fla., is known as educators' most trusted source for practical and legal education administration guidance and produces newsletters (Education Daily®), books, pamphlets, DVDs, audio conferences, eLearning courses, online services (Title1admin.com, EducationDaily.com and Special Ed Connection.com) and training tools to help educators implement sound programs and avoid compliance errors related to Title I, autism, discipline and more. LRP also produces professional education conferences including: National Institute on Legal Issues of Educating Individuals with Disabilities® and Special Education School Attorneys Conference. For a complete list of LRP products, eCourses and conferences, please visit http://www.lrp.com.
Media Contact:
Rennette Fortune
LRP Publications
(P) 561-622-6520, ext. 8674
(C) 561-373-9870
rfortune(at)lrp(dot)com
FETCpress(at)lrp(dot)com