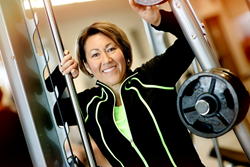 I'm happy to join HSHS Medical Group and look forward to reaching a broader audience to promote hope and healing through personal wellness. Sonya Jones
Springfield, Illinois (PRWEB) February 17, 2016
HSHS Medical Group hires NBC's Biggest Loser Finalist Sonya Jones to become a health and wellness advocate.
HSHS Medical Group, the physician organization of Hospital Sisters Health System (HSHS), is pleased to announce that Sonya Jones has accepted the position of Outreach Representative for HSHS Medical Group. Her primary focus will be a health and wellness advocate on behalf of HSHS Medical Group, as well as a spokesperson for key service lines such as Joslin Diabetes Center, Affiliate at HSHS Medical Group and LeadWell Corporate Health and Wellness.
Sonya was a finalist of NBC's The Biggest Loser Season 16, losing the title of The Biggest Loser only by .01%, the closest margin of loss in the show's history. As a result of her experience on the show, she successfully manages weight loss and personal fitness, and no longer at risk for diabetes.
Since the show, Sonya has been in high demand as a professional speaker, traveling nationwide to share her story of personal wellness.
"I'm happy to join HSHS Medical Group and look forward to reaching a broader audience to promote hope and healing through personal wellness," she says.
"We are excited to have Sonya join HSHS Medical Group," says Melinda Clark, Chief Executive Officer. "She is an extraordinary role model, and her desire to motivate others aligns with our goals as a medical group. We look forward to continuing to inspire our communities toward better health and wellness."
HSHS Medical Group http://www.hshsmedicalgroup.com is the physician organization of Hospital Sisters Health System (HSHS). Launched in 2008, HSHS Medical Group is a critical component of the HSHS Care Integration strategy, which focuses on bringing physicians, technology and patients together to improve the overall health of our communities. Today, HSHS Medical Group is comprised of over 1,000 colleagues in locations throughout central and southern Illinois. HSHS Medical Group is powered by the Franciscan history of the Hospital Sisters of St. Francis, and our faith-based identity led us to the single most important tenet of the HSHS Medical Group philosophy — patient-first care.