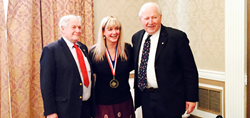 New York, NY (PRWEB) February 15, 2016
The Dog Writers Association of America (DWAA) has announced the winners of the 2015 Writing Competition. A complete list of the Regular and Special Category award recipients can be found on http://goodnewsforpets.com/dog-writers-association-announces-2015-writing-competition-winners/.
These were announced at DWAA banquet on February 14, 2016 at the Pennsylvania Hotel in New York City. The event precedes the annual Westminster Kennel Club Dog Show.
In conjunction with the awards ceremony, the 81-year-old organization presented its first-ever writing seminar, "The New Journalism of Dog Writing – How to Get Yourself Published in the 21st Century," including appointments with editors and agents.
Contest winners (featured in bold) received the prestigious DWAA Maxwell Medallion, named in honor of the late Maxwell Riddle who co-founded the organization. Sponsors award cash grants for special writing awards.
For more information regarding the day's events please visit http://goodnewsforpets.com/dog-writers-seminar-lunch-awards-announced/.
The Dog Writers Association of America is the most recognized professional writing association devoted to dogs. Founded on February 13th, 1935 by a group of editors and publishers invited to the Westminster Kennel Club, the DWAA now includes over 500 members. DWAA encompasses all aspects of the world of dog writing and publishing –showing, performance, behavior, training, health, and the human animal bond. For 81 years, DWAA has helped members share ideas for articles, helped with interviews and discussed fees and contracts. For editors and publishers, DWAA recommends members, helps with topics for articles, and suggests sources and interview subjects. For more information visit the newly relaunched web site http://www.dogwriters.org, follow us on Facebook at Dog Writers Association of America or on twitter at @DWAA_US.