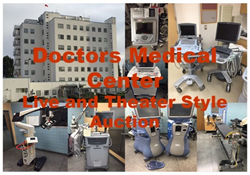 San Pablo, California (PRWEB) February 16, 2016
AUCTION STARTS February 17th and 18th at 9AM PST
Sale will be held on site theatre style and via simulcast live online!
Location: 2000 Vale Road, San Pablo California
Centurion Service Group is very excited to bring to you the live simulcast auction selling an impressive catalog of over 2500 lots of used medical equipment and over 200 lots of non-medical items.
Inspection Dates: Monday, February 15 & Tuesday, February 16 from 8AM-3PM PST each day
Equipment Removal: Friday, February 19 - Wednesday, March 2nd 8am-3pm PST
Centurion Service Group is the innovative company behind the world's largest used medical equipment auction house. They empower buyers to purchase from the largest inventory, with no minimum or maximum restrictions, and a fast and easy auction process.
Based in Chicago and with locations in Las Vegas and South Florida, Centurion Service Group is internationally known as an industry leader specializing in surplus medical equipment auctions. They are rated the largest medical auction house in the world, selling more than 100,000 pieces of medical equipment every year. Whether it is your first time bidding at an auction, or you are a long-time customer, Centurion Service Group offers resources that will assist you in different steps of the auction process. Learn about our:
Live Auctions
Timed Auctions
Buyer Resources
This auction will take place in San Pablo, California on Wednesday, February 17 & Thursday, February 18 starting at 9:00 am PST both days. There will be online and on-site bidding. Registration information and the complete list of medical equipment can be found HERE!
For more information on this auction or upcoming auctions, please visit centurionservice.com.
MORE EQUIPMENT. LESS WORK.