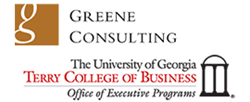 "I really enjoyed your CFP® course. Your instructors did a great job of keeping my attention during the online classes and giving me a good idea of what I can expect on the CFP Board exam," says Taylor A., Financial Advisor, Raymond James & Associates.
Atlanta, Ga. (PRWEB) February 17, 2016
Greene Consulting, a leading financial services education and consulting firm, and the University of Georgia's Terry College of Business, one of the top business schools in the country, announces a new start date for the next Live Instructor-Led Certified Financial Planner™ Certification Education Online class. The next class begins on Wednesday, February 24, 2016, at 7:00pm EST and is the first live instructor-led online class to begin in the month of February since the two institutions partnered together over a decade ago.
This CFP Board registered educational program allows students to fulfill the CFP Board of Standards Inc. educational requirement and sit for the national CFP® Certification Examination. "The live, instructor-led online format gives students ultimate flexibility and enhanced learning capability to better prepare to pass the CFP Board Exam," says Mike Jenkins, Senior Associate Director - Executive Programs, Terry College of Business.
"This live, online CFP® certification program not only has exceptional first-time test taker pass rates, but extends beyond the core technical topics to provide students with actionable strategies and examples for how the most successful professionals are engaging clients and prospects in the financial planning discussion," says Senior Consultant Michael Sorrow of Greene Consulting.
This accelerated, 11-month CFP® certification education program is available via Greene Consulting's web-based educational platform, which currently serves thousands of professionals throughout the financial services industry. Completion of this CFP Board registered educational program simultaneously earns dual credits towards the partners' existing Certified Personal Retirement Specialist™ (CPRS™) designation.
Using the promotional code PR100FEB2016 at checkout, students can save $100.
About Greene Consulting
Founded in 1979, Greene Consulting is a leader in the financial services industry, equipping organizations in the Unites States and abroad with practical, real-world strategies to acquire, retain, and grow more profitable client relationships. Greene Consulting delivers solutions that address the four key issues required to achieve revenue growth: Expanding Professional Knowledge, Increasing Sales Effectiveness, Creating Client Loyalty, and Empowering Effective Leadership. For more information about Greene Consulting, contact Michael Sorrow, Senior Consultant, at 404.324.4600 or visit the company's website: http://www.greeneconsults.com.
About University of Georgia - Terry College of Business
Founded in 1912, the Terry College of Business at the University of Georgia is the flagship business school in the state and is consistently ranked among the top in the nation. Terry faculty are committed to high-quality research and instruction, preparing students for the global business community. Terry offers an array of undergraduate, graduate and executive programs. The college is home to the renowned Selig Center for Economic Growth. For more information, visit http://www.terry.uga.edu.