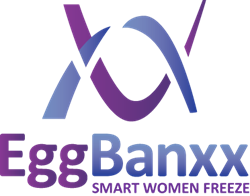 New York, NY (PRWEB) February 16, 2016
Family planning is typically thought of as precautions taken to avoid pregnancy. As more women are delaying motherhood (a whopping 20% of women have their first child after the age of 35), needing to plan for the ability to have biological children is now taking center stage thanks to EggBanxx.
"Most people aren't aware that one in six U.S. couples struggle with infertility and by age 35, one in three couples have trouble conceiving." says CEO of EggBanxx, Gina Bartasi. "There has been an 800% increase in Egg Freezing in the last five years. That's a powerful byproduct of the advancements in the flash freeze process called vitrification, the lifting of the experimental label by the American Society of Reproductive Medicine in 2012, an increase in awareness accelerated by large tech companies offering egg freezing benefits to their employees, and the proactive nature of moms-to-be who want to maximize their opportunities to have the family they want, when they want it."
The EggBanxx Egg Freezing event will run from 6pm to 8pm, held at the NoMad Hotel at 1140 Broadway, NY, NY. Over cocktails and passed fare, attendees will have their fertility preservation questions answered by three esteemed fertility doctors from top clinics in the tri-state area.
EggBanxx has hosted dozens of Egg Freezing parties to date across the US, including San Francisco, Boston, Chicago, Los Angeles and New York.
Egg Freezing is the process where a woman's eggs are retrieved, frozen and stored for later use. A drug regime accompanies the procedure to boost the number of mature eggs developed by the ovaries. Once the eggs are frozen, they remain as healthy as they were the day they were frozen and can later be thawed, fertilized and transferred to the uterus with the potential of pregnancy.
EggBanxx media inquiries should go to: Robin at 646-350-0748
To learn more about EggBanxx, call 855-552-2699
To RSVP for Wednesday's event, visit https://www.eggbanxx.com/Register
About The Company:
EggBanxx is the industry's first national network of fertility doctors raising awareness of egg freezing as an option to young women today. EggBanxx is focused on making elective egg freezing accessible and affordable.
EggBanxx.com, owned by FertilityAuthority.com, LLC, is part of a family of websites and services providing comprehensive, interactive resources and referrals for women and men seeking quality fertility information, as well as tools to simplify the search for trusted fertility doctors or fertility clinics.
FertilityAuthority.com, LLC is wholly owned subsidiary of Progyny, Inc. FertilityAuthority.com is the first company to provide fertility patients with easy accessibility to high quality doctors, price transparency, and financing, coupled with extraordinary clinical expertise and proprietary clinical solutions The company is headquartered in New York, NY. For more information, please visit http://www.FertilityAuthority.com.