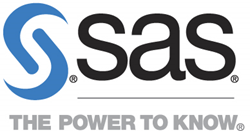 Cary, NC (PRWEB) February 16, 2016
In Vegas, winning often comes down to the luck of the draw. Not so in business. The savviest organizations harness the power of big data to shift the odds in their favor with software from SAS, the leader in analytics.
To stack their decks for even better results, more than 5,000 SAS® users worldwide will flock to SAS Global Forum 2016 at The Venetian Las Vegas, April 18-21. Tens of thousands more will participate online. These data scientists, analytics professionals and business leaders will hit a jackpot of educational and networking opportunities with concurrent user and executive programs under the theme "Imagine. Create. Innovate."
Hundreds of sessions and expert-led courses
Created for users by users, the SAS Global Forum 2016 users program will offer engaging content on analytics, business intelligence, data management, programming, user development and more. Attendees can explore sessions by topic, job role, skill level and industry, customizing an agenda to maximize their professional development and networking potential.
Analytics professionals can up their game via hands-on training, courses and tutorials from recognized experts representing dozens of leading global organizations including Accenture, Bank of Montreal, Blue Cross Blue Shield of Arizona, Delta Air Lines, DirecTV, eBay, Mayo Clinic, Oklahoma State University, Teradata, the US Census Bureau, Wyndham Exchange and Rentals, and more.
Keynotes feature data visualization and information design guru David McCandless and New York Times best-selling author Susan Cain, whose books have provoked a national movement celebrating introverts.
Executive track: leaders learning from leaders
Vegas casinos extend perks to high rollers. Similarly, the SAS Global Forum 2016 executive program is tailored to senior executives (director level and above). Attendees will have access to all SAS Global Forum user sessions and events, plus small-group breakouts and networking opportunities expressly for top-level decision makers.
Anchored by a keynote from Arianna Huffington, founder and president of Huffington Post Media Group, the executive program includes presenters from Altimeter Group, Amica Insurance, Dignity Health, Emerson Electric, Ford Motor Co., Kelly Blue Book, the New York Mets, Red Hat, Walmart and more.
Register in February and save
Online registration is open now. Through Feb. 29, SAS Global Forum registrants can save up to $500 off each registration. SAS also offers significant discounts to organizations registering five or more participants. Details are available online.
Follow and participate virtually
As always, SAS fans can follow SAS Global Forum on social media, via numerous digital channels:

Blogs: Read reports from sessions, view video updates and hear from SAS and customer experts on blogs.sas.com.
Twitter: Follow @SASsoftware and the hashtag #SASGF.
Facebook: Like SAS Softwareon Facebook to receive updates.
LinkedIn: Stay tuned about conference events on the SAS company and SAS Users Group pages.
Select sessions and keynotes from the user program will be livestreamed and available on demand. Visit SAS Global Forum 2015 online for on-demand content from last year's conference.
About SAS
SAS is the leader in analytics. Through innovative analytics, business intelligence and data management software and services, SAS helps customers at more than 80,000 sites make better decisions faster. Since 1976, SAS has been giving customers around the world THE POWER TO KNOW®.
SAS and all other SAS Institute Inc. product or service names are registered trademarks or trademarks of SAS Institute Inc. in the USA and other countries. ® indicates USA registration. Other brand and product names are trademarks of their respective companies. Copyright © 2016 SAS Institute Inc. All rights reserved.