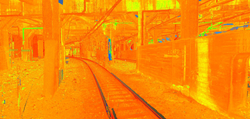 In addition to saving time and minimizing disruption to RTA rail service, 3D laser scanning improved safety. - Mark A. Yeager, P.S., KS Associates Director of Surveying Services
Elyria, Ohio (PRWEB) February 17, 2016
KS Associates, Inc., a civil engineering, transportation engineering, and surveying firm located in Elyria, Ohio, contracted with TranSystems, Inc. and Greater Cleveland Regional Transit Authority (RTA) to provide surveying services for the reconstruction of the Westbound Mainline (Track 8) and the rehabilitation of an auxiliary platform along Track 7 at the Tower City RTA Terminal. KS Associates utilized 3D laser scanning to conduct an existing conditions survey for the project. Scanning minimized disruption to rail service, saved time, enhanced safety, and provided an enormous amount of data for the design team.
The project area at the Tower City RTA Terminal is located beneath Tower City Center in the heart of downtown Cleveland. The station is the busiest hub of RTA's rail network, with all rail lines converging here. Minimizing disruption to rail operations and passengers was key to the success of this project. To perform work as quickly and as efficiently as possible, KS Associates utilized 3D laser scanning to conduct the survey.
KS Associates combined scan data acquired from this project with data that was previously captured for an earlier assignment at the Tower City RTA Terminal. Using both sets of data, KS created a "virtual reality" view of the project area. Re-purposing and merging the data saved time and survey costs for RTA.
Laser scanning also provided the ability to capture data in the dark. Even in the dimly lit areas beneath Tower City, the scanner performed effortlessly offering a "night vision" view of the site. The operation collected millions of data points that provided a single point cloud of the project – more than enough information that the design team will need to design the track and platform improvements.
The use of scanning technology also improved safety. Surveyors spent less time on the tracks and kept a clear distance from moving trains, which resulted in no downtime of RTA rail operations.
For the right project, 3D laser scanning can improve safety, safe time, and enhance the design process. For information about KS Associates' 3D laser scanning capabilities visits: http://www.ksassociates.com.
About KS Associates, Inc.:
KS Associates is a civil engineering, transportation engineering, and land surveying firm that provides planning, design, and construction phase services related to public infrastructure projects. KS Associates specializes in the areas of transportation, potable water, waste water and storm water; coastal engineering services; site development engineering services for institutional, commercial and residential uses; land surveying and mapping services; and 3D laser scanning services.