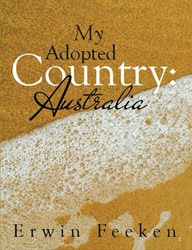 Get to know a new country and its people, it's all worth the effort.
CANBERRA, Australia (PRWEB) February 17, 2016
Leaving post-war Germany behind, Erwin Feeken and his wife sought adventure and exploration in a new land – and so began their 50-year adventure through Australia.
In his new book, "My Adopted Country: Australia," Feeken chronicles his family's adventures as modern day explorers through the wild Australian outback. Feeken's account of assimilating into a culture drastically different from his German homeland will open the eyes of readers seeking their own adventure and help prepare them for the cultural differences they may encounter.
"We came for adventure, and adventure is what we've had," Feeken said. "Get to know a new country and its people, it's all worth the effort."
Feeken hopes to inspire readers to step out of their comfort zone through travel, particularly in a time when misunderstanding and mistrust are more prevalent than ever.
"As Mark Twain once said, 'Travel is fatal to prejudice, bigotry and narrow-mindedness,'" Feeken said. "I think that is reason enough to go see the world."
For more information, visit erwinfeeken.com.
My Adopted Country: Australia
By Erwin Feeken
ISBN: 9781499028607
Available in softcover, hardcover, e-book
Available on Amazon, Barnes & Noble and XlibrisAU
About the author
Erwin Feeken was born in Germany in 1930 and migrated with his wife Gerda to Australia in 1954. He joined various organizations in his field as surveyor, cartographic draftsman and later, as a cartographer which took his family across Australia for many years. At the Australian National University, where he was cartographer in the Geography Department, he stumbled upon the original journals of explorer Sir Thomas Mitchell. This discovery became a life-long passion in Australian exploration for Feeken and his wife, culminating in the publication of "The Discovery and Exploration of Australia" in 1970.
# # #
For review copies or interview requests, contact:
Jade Schwarting
317.602.7137
jschwarting(at)bohlsengroup(dot)com