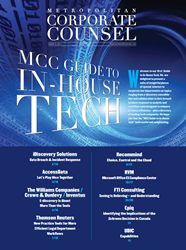 Our contributors have done an amazing job focusing on the issues on the top of the in-house agenda," said Ms. Calve. "We are delighted to present our first Guide to In-HouseTech.
New York, NY (PRWEB) February 16, 2016
Metropolitan Corporate Counsel, a Law Business Media company, today announced the publication of the "MCC Guide to In-House Tech," an essential resource for corporate law departments. The Guide, the first edition of what will be an annual publication, includes insightful articles from, and in-depth interviews with, leading legal, business and technology experts focused on collaborating with in-house counsel in their ongoing efforts to heighten efficiency, lower costs and otherwise drive operational effectiveness and meet regulatory challenges in areas such as privacy and data security.
Participants in the Guide include such well-known players as AccessData, Epiq, FTI Consulting, iDiscovery Solutions, Inventus, Recommind, RVM, Thompson Reuters and UBIC.
According to Kristin Calve, publisher of Metropolitan Corporate Counsel, General Counsel and their legal and operations teams are keenly focused on managing both expense and risk, particularly when it comes to e-discovery, where the rising tide of Electronically Stored Information (ESI) data is raising major challenges in high-stakes litigation and investigations.
"At most companies, controlling spiraling costs without raising the regulatory risk profile is the challenge that keeps legal chiefs, corporate executives and board members up at night," said Ms. Calve. "Technology isn't the only solution, but rapid advances in areas such as data analytics, visualization and machine learning hold great promise for in-house law departments. That's why the Guide is so important to our readers. It's a fast-moving area, and they want to get it right."
Among the topics addressed by contributors to the Guide are:

Why people, particular savvy project managers, are as important as technology tools in an area where there are no one-size-fits-all solutions
How sophisticated consumers of outside legal and technology services, such The Williams Company, a leading energy company, are working with outside counsel and technology experts to manage large-scale e-discovery projects
Keys to making data breach incident response work for your company
An intriguing approach combining authoritative legal research, legal know-how, and useful tools into a single solution organized around the ways in which in-house counsel work.
Insights drawn from a survey of corporate law departments, particularly regarding attitudes toward e-discovery consolidation and cloud-based solutions
How one leading company is building advanced analytics and e-discovery functionality such as email threading and de-duplication into its platform
How a new data analytic tool integrates unique visualization capabilities into a leading e-discovery platform
The impact of the European Court of Justice's recent Safe Harbor decision on Canadian organizations
"Our contributors have done an amazing job focusing on the issues on the top of the in-house agenda," said Ms. Calve. "We are delighted to present our first Guide to In-HouseTech."
About Metropolitan Corporate Counsel
Metropolitan Corporate Counsel, an integrated digital and print media platform, has been providing cutting-edge news and analysis to corporate law departments, executives and board members for almost 25 years. Founded by a former Fortune 100 General Counsel, MCC, a product of Law Business Media, is an indispensable resource for leading in-house counsel.