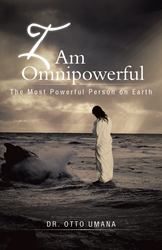 Although we cannot see God with our eyes, we can see his hand.
COLUMBUS, Ga. (PRWEB) February 17, 2016
His brother was healed after being paralyzed, his own asthma was cured and he's encountered countless other miracles around the world.
In his new book, "I Am Omnipowerful," author Otto Umana explores these miracles he has experienced firsthand. Umana, an obstetrician and medical missionary, inspires readers and offers real advice on how to forge a closer relationship with God.
"Although we cannot see God with our eyes, we can see his hand," Umana said. "Through his work here on Earth, we can see exactly who he is and what he does."
Umana has seen this love often through his medical work around the world and has established two hospitals in Nigeria. He will also be going on additional medical mission trips to Liberia, Nigeria and Haiti this year.
"I was once asked by my coworkers why I talk about God so much," Umana said. "The question made me realize all of the miracles I've seen in my lifetime and inspired me to share them with the world."
For more information, visit iamomnipowerful.com.
I Am Omnipowerful: The Most Powerful Person of Earth
By Otto Umana
ISBN: 987-1-4917-0431-8
Available in softcover, hardcover, e-book
Available on Amazon, Barnes & Noble and iUniverse
About the author
Dr. Otto Umana, a native of Nigeria, immigrated to the United States in 1999 to complete his medical education. He is a member of Solid Rock Assembly of God in Columbus, Ga., and is a physician. Dr. Umana and his wife, Kari, are independent medical missionaries and have helped establish two hospitals in Nigeria.
# # #
For review copies or interview requests, contact:
Jade Schwarting
317.602.7137
jschwarting(at)bohlsengroup(dot)com