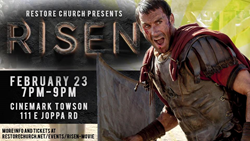 "Restore Church is a place for the whole family can serve."
(PRWEB) February 18, 2016
"Risen" is the epic Biblical story of the Resurrection of Jesus Christ, as told through the eyes of a non-believer. No matter where one is on their spiritual journey, this has the potential to provoke questions and reveal truth, guiding one to a deeper understanding of Christianity even if one is not a believer.
At Restore Church, there is a firm conviction that movies are better experienced together. So the church is inviting anyone and everyone to join us from other churches to community groups to all people. Restore Church is a non-denominational church where its okay to not be okay that holds tight to the principle of not having to believe the same way we do to belong.
Right before the movie, Jess Bousa, Founder of 501(c)3 Good Cause, lead Pastor of Restore Church, Board Member of CityFam and mister "from homeless to Harvard," will be letting all attendees in on something of great importance to Towson residents and beyond.
Righter after the movie, a resource team will be available to answer any and all questions the movie provokes.
We're renting the whole theater to ourselves! Make sure you purchase your tickets at http://www.RisenShowing.EventBrite.com. Group rates are available. Contact Lisa Moll, our Event Coordinator, at lisa(at)restorechurch(dot)net for more info or group rates.
You might be the only one not there if you don't get your tickets now.