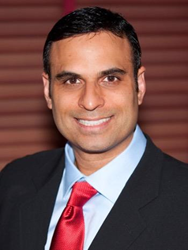 Oak Brook, IL (PRWEB) February 15, 2016
In honor of Children's Dental Health Month this February, Amarik Singh DDS, MS, recently volunteered at Pleasantdale Elementary School, to help educate second graders on the importance of healthy teeth and ways to maintain proper dental health. This is the sixth year in a row that Dr. Singh has volunteered to speak for this event, and he values the impact it has on the young minds in his community. A leader in dental implant therapy, having placed over 14,000 dental implants, and specializing in the maintenance of periodontal disease in Oak Brook, IL, Dr. Singh recognizes the importance of a maintaining a healthy mouth, at any age.
A renowned periodontist who has lectured across the country to dental professionals, residents and students, Dr. Singh described this event as the one he looks forward to most. As part of his visit with the young students, Dr. Singh discussed the importance of good oral health, foods that are beneficial for their teeth as well as answered questions. In addition, each student was provided worksheets to complete with their parents as well as a toothbrush to take home with them to start them on the right track to excellent oral hygiene. The team at Periodontal Implant Associates says they find this one of the most satisfying events they attend, because the knowledge gained at this age can determine the future dental health of each one of these young children.
As part of his presentation, Dr. Singh also educated students on how to avoid poor dental health by offering proper brushing and flossing techniques, and stressed the importance of seeing a dentist for regular dental cleanings. If proper oral health is not maintained, gingivitis and gum disease can set in. Gum disease is an infection of the gums that, if left untreated, can lead to a series of issues, including receding gums, tooth and bone loss and contribute to various systemic problems. Frequent periodontal disease maintenance is necessary to fully eradicate this disease and ensure it does not persist and create even greater health issues. Dr. Singh offers the minimally-invasive BIOLASE Waterlase® REPaiR™ laser treatment for periodontal disease. This state-of-the art laser technique provides a gentle, non-surgical approach to periodontal care that increases effectiveness and minimizes pain.
Dr. Singh welcomes those who are interested in learning more about their oral health, or who are in need of treatment for periodontal disease in Oak Brook, IL, to contact his office to schedule a consultation. More information can also be found on his website, http://www.pidentists.com or by calling (630) 424-9404.
About the Doctor
Periodontal Implant Associates is a periodontal practice offering personalized dental care for patients in Oak Brook, IL and the Chicago, IL area. After graduating from Northwestern University Dental School, Dr. Amarik Singh went on to obtain his Specialty Certificate in Periodontics and earn his Master's from Northwestern University. Dr. Singh is deeply committed to continuing education and prides himself on remaining on the cutting-edge of the newest techniques and technology in dentistry. Dr. Singh is part of an elite group of dental professionals at the forefront of the Chao Pinhole® Surgical Technique (PST®), a revolutionary new approach to repairing gum recession. To learn more about the periodontal services available at Periodontal Implant Associates, please visit http://www.pidentists.com or call 630-424-9404.