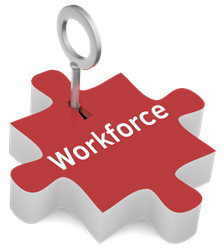 We believe branch transformation is entering a new stage. For growth, leaders are looking to unlock the value of their greatest asset -- the workforce.
San Diego, CA (PRWEB) February 17, 2016
Kiran Analytics – a leader in intelligent branch transformation – announced today that it will share its branch workforce optimization insights at three major industry events -- CBA Live 2016, Retail Banking 2016, and International Retail Banker 2016.
CBA Live 2016, the premier event of the Consumer Bankers Association, will be held on March 7-9 in Scottsdale, AZ.
Retail Banking 2016 Conference, the premier event of the retail banking industry in the US, will be held on April 6-8 in Las Vegas, NV.
International Retail Banker 2016, the premier event of the retail banking industry in the UK, will be held on May 19 in London.
To keep up with changing consumer banking behaviors, retail banks have been making significant technology investments in digital banking and branch automation. They have also been closing unprofitable branches, eliminating teller lines, and reducing operating hours to improve operational efficiency.
Kiran Analytics CEO Jim DeLapa said, "We believe branch transformation is entering a new stage. The first stage of branch transformation primarily focused on strategies for reducing expenses because most banks viewed their branch network and branch staff as expenses. Bankers realize that while customers value the speed, flexibility and convenience of digital banking, they still prefer face-to-face interactions in branches for account openings, complex service needs, and financial advice. Leaders in the next stage of banking transformation are focusing on strategies for growing revenue because they view their branch network and workforce as under-utilized assets."
He added, "Heads of retail banks are now asking us two critical questions: Do I have the right staff skills and resource capacity to improve revenues where the majority of customer acquisition and cross-selling still takes place? And, how do I maximize the value of my greatest asset, the workforce, in the face of the dynamic complexity of omni-channel delivery? The answers to these questions can no longer be based on intuition and one-size-fits-all solutions. Given the increasing pace of change and differences across regions and micro-markets, the answers lie in solutions driven by data and advanced analytics."
At the upcoming industry events, Kiran Analytics will be sharing insights on how its innovative advanced analytics solutions are helping retail banks optimize their workforce for growth.
About Kiran Analytics
Kiran Analytics drives intelligent branch transformation for retail banks through the application of predictive analytics. Kiran's solutions have been deployed in over 10,000 branches helping to forecast optimal branch staff levels accurately, hire better people faster, and to plan and schedule resources efficiently. As a result, retail banks increase sales and customer service while reducing operational costs. Kiran Analytics is a member of Bank Administration Institute (BAI) and Consumer Bankers Association (CBA).