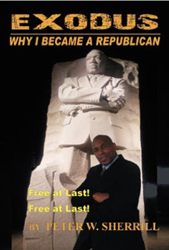 Americans today value issue agreement over electability and the way the 2016 primaries are playing out so far reflects this preference for issues rather than potential viability in the November general election. --Gallup Polls
Bronxville, New York (PRWEB) February 24, 2016
Republican Presidential Candidate Peter W. Sherrill's book Exodus exposes the need, especially for African Americans to leave the Democratic Party. He appeals to the reader and validates the lack of any significant changes for African American people for the past forty or more years. The book also highlights the continuous betrayals by the Democrats to the Black and Latino communities at the expense of our children's future.
Given the remaining choices in the Republican Party for this upcoming election, more and more people are wondering if there is a GOP alternative. Republican Presidential candidate Peter W. Sherrill believes an exodus from the Democratic Party would secure the election for the GOP. However, the problem with an exodus is, who would the Black or Latino voter feel confident with when Republicans are not even sure who to support.
Many Republican voters remain undecided. In Iowa only 18 percent were actually decided before the primary. In New Hampshire 48 per-cent remained undecided, and 1 in 8 were undecided in South Carolina. Should the GOP be concerned?
According to recent Gallup polls, "Americans today value issue agreement over electability and the way the 2016 primaries are playing out so far reflects this preference for issues rather than potential viability in the November general election. This complicates the GOP's ultimate goal of winning the general election, because Republicans and Republican-leaning independents may prefer candidates whom they find most agreeable now, but will in the end want a candidate who can win in November."
Republican Presidential candidate Peter W. Sherrill highlights the electability solution in his book Exodus: Why I Became A Republican. The Republican Party's inability to reach the African American and Latino voter cost the Party in 2012 and may very well cost them again in 2016.
Sherrill believes he is the candidate who is destined to fulfill this mission. First and foremost, because he has been inspired by God to lead the Exodus of Blacks and Latinos out of the Democratic Party.
Secondly, because of his extensive training and personal relationship with First Responders in Homeland Security as Director of Emergency Services for the War on Terror and in Weapons of Mass Destruction, Sherrill guarantees our First Responders will never have to worry about their funding being jeopardized to fight this War on Terrorism, our Border Security, or funding for 911 related illnesses.
Last but not least, his many years in Corporate America, and education in Economics and Masters in Public Administration gives Sherrill a comprehensive array of skill sets required to Secure America foreign and domestically from Terrorism, financially against Wall Street and politically against government bureaucracy.
Sherrill is determined to not only defeat the Democrats as thoroughly and completely as Ronald Reagan in 1980, but to also neutralize the Democratic Party once and for all. That is the mission, that is the plan. Join the mission America and support this unprecedented movement. Let's Secure America once and for all.