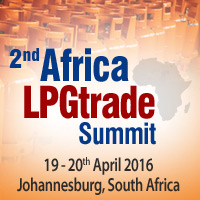 The summit discusses Africa's LPG market dynamics and solutions - to increase LPG availability, accessibility and affordability.
Johannesburg, South Africa (PRWEB) February 23, 2016
On 19-20 April, 2016 in Johannesburg, 2nd Africa LPG Trade Summit discusses the continent's LPG market dynamics and solutions along the supply chain to increase LPG availability, accessibility and affordability.
The summit starts with a slew of country-focused discussions – including an analysis of South Africa's LPG market. Benoit Araman, MD & Member Board of the Directors for Oryx Oil South Africa, shares insights of its LPG storage, filling and marketing experiences in the country. The MD also joins a panel comprising representatives from Kensys Gas and Botswana Oil deliberating on how to 'Manage and Overcome LPG shortage in Southern Africa'. South Africa's energy regulator – NERSA's Rod Crompton addresses – what needs to be done to achieve sufficient LPG storage and import facilities.
Nuhu Yakubu, MD/CEO of Banner Energy, analyses the LPG markets in Nigeria while details of Ghana's Atuabo Gas Processing Plant – pegged as 'LPG Industry's Game Changer' is shared by Dr. George Sipa Yankey, CEO, Ghana National Gas Company. Gamu Mpofu, Project Manager, Botswana Oil updates on Botswana Coal-To-Liquids (CTL) Plan and its role in LPG supply while Stella Makanza, Sales and Marketing Manager, Kensys Gas presents 'Zimbabwe's LPG Market Outlook and Logistic Capacity for Import'. Alex Evans, Chairman of The Global LPG Partnership will also speak at the summit.
In a global case study, India's largest fuel retailer – Indian Oil Corp's (IOC) Ashutosh Gupta, Chief Manager (LPG-Operations) shares experiences on its 'Operation and Distribution Model to Ensure Reliable LPG Supply' highlighting the country's LPG distribution challenges, ways to improve LPG availability and latest on its LPG bottling plant.
Other leading sessions at the summit are:

Global LPG Market and Trade Dynamics – Lauren Cervino, Consultant, Poten & Partners
Investment Opportunities in East Africa LPG Infrastructure and Growing Markets – Thangapandian Srinivasalu, Executive Director, Gulf Petrochem
Regulating the Industry to a Point of Safety – Kevin Robertson, CEO, Liquefied Petroleum Gas Safety Association of Southern Africa (LPGSASA)
View summit website for more information or contact Ms. Huiyan at +65 6346 9113.