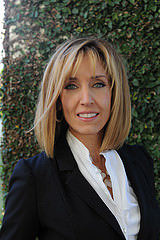 There's a wrong-headedness in technology investment: somehow women in business are seen incorrectly as a special risk.
Tampa Bay, FL (PRWEB) February 16, 2016
Women-owned businesses are a $3 trillion economic force and support 23 million jobs but still face significant barriers compared to their male-owned counterparts when it comes to obtaining loans and growing their businesses, according to a report by the Senate Committee on Small Business and Entrepreneurship. Women entrepreneurs account for only $1 out of every $23 in small business lending, despite representing 30 percent of all small companies, and are more likely to receive less favorable terms than men. (1)
But although women experience unequal investments compared to men, they have a 35 percent higher ROI when venture backed and generate 12 percent higher revenue than male-run startups. Women entrepreneurs bring in 20 percent more revenue with 50 percent less money invested. (2)
Monica Eaton-Cardone, co-founder of several technology companies and CIO of Global Risk Technology, an international risk management organization with subsidiaries in the U.S., says the figures don't lie. Female tech startups are doing something right.
"There's a wrong-headedness in technology investment: somehow women in business are seen incorrectly as a special risk. Maybe that was true a hundred years ago, but in today's world, a well-grounded intelligence and a passion to succeed counts for everything."
Eaton-Cardone says investing in small business is critical to the economy as it creates jobs and goods and services as well as generating cash flow and taxes, so venture capitalist should watch the numbers.
But beyond that, she says gender diversity is essential for progress and future-building. It brings a broader perspective to design, development and marketing – one that helps avoid "silo thinking" and introverted strategies that fail to correctly anticipate the needs of the public.
Eaton-Cardone added that because technology is advancing so rapidly, IT companies are tasked with the challenge of conceiving and producing products and services before the public are even aware that they need or want it. Add to this, she says, the factor of technology collaboration, product mergers, new materials sourcing and dozens of other landscape-changing dynamics that occur weekly and it is easy to see that every company needs to play with a full deck.
"Anyone working in the start-up world knows that women are not well represented in technical or founder roles. The only way to break through this is to invest in female leadership ownership because it's the heads of companies that establish the ethnics of the workplace," Eaton-Cardone said. "Gender bias is not only archaic and illogical, it actually works against the economic well-being of this country."
About Monica Eaton-Cardone:
Monica Eaton-Cardone is an entrepreneur and business leader with expertise in technology, eCommerce, risk relativity and payment processing solutions. She has co-founded a number of successful companies, employing 350+ people globally. With the advent of "friendly fraud" expanding from the U.S. to other countries, Eaton-Cardone recognized the necessity to protect the global economy from illicit chargeback threats; hence, Global Risk Technologies (GRT) was established. She currently serves as the CIO of GRT, an international organization with subsidiaries in the U.S.; Chargebacks911; and eConsumerServices. She additionally continues to hold the position of COO of Chargebacks911. Eaton-Cardone has earned a reputation for creative business solutions, helping merchants and banks to achieve sustainable payment processing practices and supporting consumers in resolving transaction issues. She is a champion of women in IT, and hopes to contribute to an expanded presence of females in technical professions and leadership roles.
1. "U.S. Senate Committee on Small Business & Entrepreneurship." Press Releases. N.p., 23 July 2014. Web. 25 Jan. 2016. sbc.senate.gov/public/index.cfm?p=PressReleases&ContentRecord_id=7557d42b-daa3-4c06-b303-913ed0fc1447&ContentType_id=4bfd610b-f7c6-4d07-9c74-7aab32dd9838&Group_id=0a5867cf-c34c-421f-969b-ea2a5b192a22&MonthDisplay=7&YearDisplay=2014
2. "The Rise of Women Startups | Light Reading." Light Reading. N.p., n.d. Web. 25 Jan. 2016. lightreading.com/business-employment/women-in-comms/the-rise-of-women-startups/d/d-id/720001