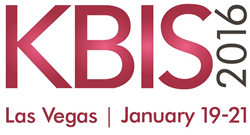 ...#KBTribeChat, an informative hour of discussion among experts in all facets of the industry.
Toledo, Ohio (PRWEB) February 18, 2016
What happened in Vegas… is making news in the kitchen and bath trades. MR Direct drew scores of new visitors to its booth at this year's Kitchen and Bath Industry Show (KBIS). The three-day event attracted its highest-ever number of attendees, and MR Direct was proud to be one of the hundreds' of vendors there to greet them.
A great deal of interest was shown in the new MR Direct designs being exhibited for the first time at KBIS 2016. For instance, drawing wide approval were the new UGM and UG1913 glass sink models. These basins feature the unusual ability of being installed under the counter, differing from most glass sinks which are designed as vessels for above-the-counter display. Likewise, eight new stone and bamboo offerings evoked jaw-dropping wonder with their irregular shapes and unrefined natural surfaces. A new line of economical stainless steel sinks, many available in varying thicknesses and with the option of being under or topmounted, were also well received.
However, overall, communication was the key to success. MR Direct professionals reviewed their latest products, policies, and pricing with new and old customers alike. Discussions were lively and educational as usual, but this year not all were face-to-face. As technology has evolved, offering more ways to enhance business interactions; the MR Direct team has embraced several of these electronic methods.
Many contacts were made using the KBIS2016 hashtag during the show. This gave consumers and reps immediate access to each other even if they were out of the immediate area. To highlight show events as they unfolded, digital photos and videos were tagged in real time and shortly thereafter on nearly all of the most popular social media sites. MR Direct also participated in the live tweeting event #KBTribeChat, an informative hour of discussion among experts in all facets of the industry.
This year's KBIS provided MR Direct and consumers alike with memories and business contacts which will not stay in Vegas.
All MR Direct products are available for review at http://www.MRDirectint.com.