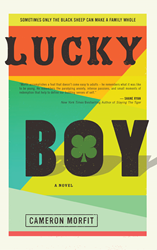 "Lucky Boy" is a meditation on luck, alchemy, and life's unlimited capacity for surprise.
Boise, ID (PRWEB) February 16, 2016
Senior Writer for the "Sports Illustrated" Golf Group, Cameron Morfit, has released his new middle-grade novel, "Lucky Boy."
While often creating multiple articles per day for "Golf Magazine" and "Sports Illustrated," Morfit rarely gets time to write anything that is not "work related." His passion over the last several years, however, has been focused on fiction writing, especially for children in his daughter's age group, 10-14 years. A creative and engaging writer, Morfit has spent his most recent efforts crafting "Lucky Boy," a story about a typical boy, a golf team, a brother who just won't talk and the seemingly supernatural touch of fate that changes everything.
"New York Times" bestselling author, Shane Ryan, states, "Morfit accomplishes a feat that doesn't come easy to adults – he remembers what it was like to be young. He remembers the paralyzing anxiety, intense passions, and small moments of redemption that help to define our budding senses of self."
"Lucky Boy" is a middle-grade novel about a 13-year-old misfit Max, whose glasses don't fit right; his pretty and popular 15-year-old sister, Sadie, who is on the verge of making some bad decisions, and their developmentally delayed little brother Gabe, whose inability or unwillingness to talk confounds even the experts.
The story begins with a small fire and the unannounced arrival of the Buras family's self-professed "black sheep," Dewey Tomlinson, who is some kind of cousin to their mother. Max invites "Uncle Dewey" to school for show and tell — the man has a very cool tow truck, after all — and they later become friends while making regular visits to the video poker sites in town, raking in the winnings.
Dewey, a beaten-down loner with a shady past, is what polite society might call a lost cause, but he begins to find himself in Boise. He insists Max, his second cousin twice removed, is a lucky boy, and his "good mojo" is making the machines pay out.
Against his better judgment, Max — also a lost cause, popularity wise — begins to believe it, too. He starts to think maybe he's fated to be something more than misfit Max with the misshapen head. Sadie, meanwhile, rethinks her rush to grow up. And when Max, Gabe and Dewey link hands on Halloween night, and Gabe suddenly begins to find his voice for the first time, Max starts to suspect larger forces at work.
"Lucky Boy" is a meditation on luck, alchemy, and life's unlimited capacity for surprise. Published by Elevate Fiction; a division of Elevate Publishing located in Boise, Idaho. To learn more about the author and his new novel, please go to http://www.elevatepub.com.