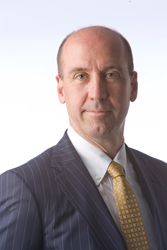 When it comes to unlearning, helping clients reframe old questions, asking new ones; and encouraging them to devote additional time to the vital tasks of reading, thinking and reflecting are top priorities.
Las Vegas, NV (PRWEB) February 23, 2016
The role of heath IT executives is changing at breakneck speed and it's clear that agility and creativity will be required as the industry continues to evolve.
To address those issues and more, global futurist and keynote speaker Jack Uldrich will join other highly regarded guest speakers: Peyton Manning, Sylvia Matthews Burwell, Michael Dell and Jonah Berger at the 2016 Annual Health Information and Management Systems Society Conference being held in Las Vegas from February 29-March 4.
Uldrich is the founder of The School of Unlearning, an international leadership, change management, and technology consultancy dedicated to helping businesses, governments, and nonprofit organizations prepare for and profit from periods of profound transformation. His clients include Fortune 100 companies, venture capital firms, and state and regional governments, and healthcare firms such as United Healthcare, Allina, St.Jude Medical and the American Medical Association.
His keynote session for the 2016 HIMSS Conference, "Leadership Insights for the Year 2020 and Beyond" will focus on technological developments expected in the next few years and examine how organizational change and advances in technology will determine what skills will be essential to leaders in the industry, and what they may want to leave behind.
Hailed by Businessweek as "America's Chief Unlearning Officer" Uldrich will explain how leaders of the future should anticipate the need to "unlearn" in order to stay agile and innovative; discuss future organizational trends; and share how the business landscape of the next few years will be vastly different. He will also Identify major forces of technological change and how this will define organizational strategy.
A best selling author Uldrich writes on a wide variety of things, his latest article featured in the Minneapolis Star and Tribune touches on change. His 11 books include, "Higher Unlearning: 39 Post-Requisite Lessons for Achieving a Successful Future" and his upcoming book, "Win the Future: The Big AHA" will be released later this year.
More information on Jack Uldrich can be found on his website.